Announcement: Image Battles – 2000 Years of News from the War (Osnabrück)
2000 years after the Battle of the Teutoburg Forest1, this event is taken as opportunity for an highly interesting exhibition in Osnabrück, close to the assumed battlefield: "Image Battles" will deal with "news from the war" in a multi-faceted approach on issues of technology, media and art.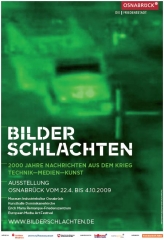 From 22 April 2009, the joint exhibition will be shown at three main locations: the Erich-Maria-Remarque-Friedenszentrum[2. The name of the peace centre is derived from the famous author of the classic war novel Im Westen nichts Neues ("All quiet on the Western Front"), born 1898 in Osnabrück.] and the Kunsthalle Dominikanerkirche2 in the city centre of Osnabrück, and the Museum Industriekultur (Museum of Industrial Culture). The European Media Art Festival (22-26 April 2009) is also taking part in this joint programme. Further exhibits can be found in various galleries and on the estate of the city. Including art in this concept will lead to an interesting exhibition, complementing the many documents and images with an important perspective.
Further events will accompany the exhibition, e.g. lectures, the international conference "Truth Machines -  The Impact of Technological Innovations on Depicting War in Media and Art" (3-6 September 2009), readings and book presentations. A catalogue will be published. More information can be found on the biligual website.
Visiting this exhibition in Osnabrück should not be missed!
Locations:
Erich-Maria-Remarque-Friedenszentrum
Markt 6
D-49074 Osnabrück
Kunsthalle Dominikanerkirche
Hasemauer 1
D-49074 Osnabrück
Museum Industriekultur
Süberweg 50a
D-49090 Osnabrück
Image Battles – 2000 Years of News from the War: Technology, Media, Art
22 April – 4 October 2009
Tu-Su 1000-1800h
Entrance fee for all locations 5€ (reduced 3€)
Free entrance for children and youth up to the age of 16
Share on Facebook