We are pleased to announce our next exhibition at the both centrally located and well-visited ARD-Hauptstadtstudio in Berlin. The single show "Peaceful Places" of Berlin-based artist Henning Kappenberg circles around landscapes and maps: what do we see in landscapes, and what do we think we see? Maps, on the other hand, do always represent a political system. Curated by Martin Bayer, the exhibition will be opened on 17 January 2013.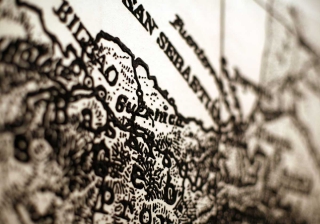 Mountains and icebergs appear to be peaceful and soothing for our eyes. But how peaceful are these locations in reality? The high alpine border region between Austria and Italy was a hard-fought theatre of operations during the First World War; icebergs sent quite a few ships to the depths; not just Mount Everest is strewn with debris from former expeditions; and climate change is melting glacial ice of millennia in just a few years. Kappenberg's mountain landscapes appear to be clear, pure and pristine – but we all know about reality.
The artist applies the colours with a syringe to his works. Thus, the pictures become detailed and gain a three-dimensional impression. His maps are equally aesthetic objects, highly accurate except for some central additions and omissions: for example, Gernika can be found on the map of Northern Spain. Once, this Basque town Städtchen was far too small to be included on the map. It was the destruction by the German "Legion Condor" during the Spanish Civil War – and not the least its artistic representation in Pablo Picasso's famous picture – that made it to a symbol for war against civilians. From a map of the Gulf region, Baghdad and Teheran were wiped away, based on the fear that the Iraq War will be followed by military action against Iran. Kappenberg's version of the Myanmar map is as dark as the country's most recent history that is still suffering the aftermath of the military dictatorship. There is also a map of Guantanamo Bay Naval Base, painted in neutral white, with the only colour being the base's baseball field.
Henning Kappenberg was born in 1965 in Oberg close to Peine. He lives and works in Berlin. From 1988 to 1994, he studied liberal arts at Hochschule für Bildende Künste Braunschweig. Since 1989, he takes part in international exhibitions. The artist will be present on the occasion of the opening.
Peaceful Places
Paintings by Henning Kappenberg
18 January – 22 Marxh 2013 (daily upon registration)
Opening: 17 February 2013, 1900h (upon registration)
ARD-Hauptstadtstudio
Wilhelmstr. 67a
10117 Berlin
Germany
Tel.: +49-30-2288 1100
Fax: +49-30-2288 1109
Email kommunikation@ard-hauptstadtstudio.de