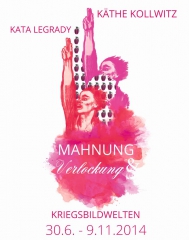 From 30 June until 9 November 2014,
Käthe-Kollwitz-Museum
in Berlin presents the exhibition
Warning and Temptation – The Pictorial Worlds of War of Käthe Kollwitz and Kata Legrady
. Two very different artists and their individual examination of war are contrasted with each other; on one hand, the pacifist works of
Käthe Kollwitz
that have not lost their impact and timelessness over many decades; and on the other hand, the direct and colourful works by
Kata Legrady
, born in 1974 in Hungary, whose contemporary approach addresses the propagandistic promises of war. In addition, the exhibition will present selected pupil's works that mainly deal with Käthe Kollwitz as mother and grandmother, who has lost her son Peter during the
First World War
, and her grandson Peter during the
Second World War
.
The First World War centenary provides the cause for another fascinating exhibition about the artistic response to war, this time by the Berlin-based Käthe-Kollwitz-Museum. At first sight, the works by the two selected artists seem to be nearly opposed to each other: here the dark, accusing woodcuts by Käthe Kollwitz, that often became icons for the peace movement; there, the weapons by Kata Legrady, colourful as candy, pasted up with chocolate buttons and looking like toys, or wrapped in banknotes. But as disturbing these works appear, their approaches  complement each other very well: here, the aestheticised matériel as downplaying temptation of a never-tiring propaganda, according to which war is just an adventure, a game, a part of coming of age; and there, the bitter warning of the dreadful consequences of any war to the societies affected.
On the occasion of the exhibition, a catalogue with essays by Dr. Gudrun Fritsch, Pay Matthis Karstens and Martin Bayer will be published (144 pages, E.A. Seemann Verlag, 24,95 €).
A comprehensive accompanying programme will complement the exhibition (in German only):
Tuesday, 8. July 2014, 1900h (148. birthday of Käthe Kollwitz)
Lecture by Dr. Steffen Bruendel: "Turning Point 1914 – Artists, Poets and Thinkers during the First World War"
10 € entrance fee incl. exhibition
Monday, 1 September 2014, 1900h (World Peace Day)
Screening of the documentary "Chemical Weapons from Germany – a Neverending Story?" and discussion with its authors Maren Schibilsky and Hartmut Sommerschuh
6 € entrance fee incl. exhibition
Monday, 8 September 2014, 1900h
Jutta Wachowiak will read from the diaries and letters of Käthe Kollwitz from 1914-1918 and 1939-1945
10 € entrance fee incl. exhibition
Monday, 15 September 2014, 1900h
Screening of "Käthe Kollwitz" (GDR 1986, 115 min)
6 € entrance fee incl. exhibition
Monday, 13 October 2014, 1900h
Lecture byMartin Bayer: "An Artwork, Loved by Men – 100 Years of War Mirrored by Art", moderated by Pay Matthis Karstens
10 € entrance fee incl. exhibition
The opening of the exhibition will take place on 29 June 2014 at 1100h; Kata Legrady will be present:
Warning and Temptation – The Pictorial Worlds of War of Käthe Kollwitz and Kata Legrady
30 June until 9 November 2014
We-Mo 1100-1800h, Tu 1100-2100h
Entrance fee 6 € (concessions 3 €)
Opening: Su 29 June 2014, 1100h
Käthe-Kollwitz-Museum
Fasanenstr. 24
D-10719 Berlin
Germany