The Generational: Younger Than Jesus (NYC)
The  New Museum in New York, founded in 1977, openes on 8 April 2009 its first triennale "The Generational: Younger Than Jesus" with works by 50 young artists from 25 countries, united by their age of less than 33. Some 145 works will be presented in the exhibit, making it quite varied, according to the background and themes of the artists, but also to the form, ranging from paintings and photography to film and animation, and from installation and performance to computer games. It remains interesting if the high artistic value implied in the exhibit's title will meet its equivalent in reality.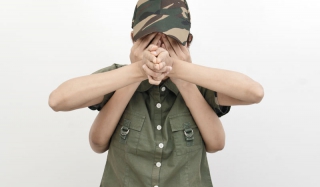 "During World War II, both Pablo Picasso and Giorgio Morandi were painting still lifes," explains Laura Hoptman:1 "Two artists, belonging to the same generation, were imagining two absolutely different realities emerging from a chaos that encompassed the entire world. We hope that 'Younger Than Jesus' will offer a look at our world as reflected through the work of many artists belonging to the same time and yet representing entirely different perspectives on its problems and its beauties."2
Two works can already be mentioned: "Untitled" from Shilpa Gupta, born in 1976 in Mumbai (India). The large-format photo (183×305 cm) shows a person in a soldier's uniform whose hands form a pistol, like in a child's play. The eyes, however, are shut by two other hands coming from behind, and with them the whole face has been hidden: gender and age are wiped out – what remains is the gesture and the soldierly appearance, nearly solely determined by the uniform.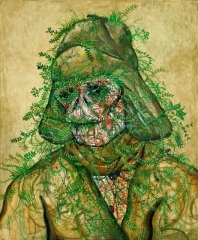 Another work is the image "U-Boot Wachoffizier" (U-boat Watch Officer) by Jakub Julian Ziolkowski, born in 1980 in Zamosc (Poland) from 2007 (55×46 cm, Hort Family Collection, New York). This soldier has been reduced to a sekeleton, dressed in the tarpaulin of an U-boat sailor. His body and especially his face has been overgrown by small leaves, growing on flimsy branches. His grave is obviously not too wet, thus he is appearing to be stranded, not the least due to the earthen background and his equally brown oilskin. Could he find rest, or do the red shadows by the branches refer to life in the undead?
An extensive catalogue (508 pages, New Museum and Steidl, 45$) will accompany the exhibition.
Generations: Younger Than Jesus
New Museum
235 Bowery
New York, NY 10002
USA
Opening hours:
Wednesday, Saturday, Sunday1200-1800h
Thursday, Friday 1200-2100h
Monday and Tuesday closed
Entrance fee: 12$ (reduced 8-10$, younger than 19: free of charge)
Public transport:
Subway 6 to Spring Street or N/R to Prince Street
Bus M103 to Prince and Bowery or M6 to Broadway and Prince
Share on Facebook