During five decades, photo journalist Don McCullin documented environmental and man-made disasters such as urban unrests, social ills, wars and epidemics. C/O Berlin presents some 150 black-and-white and colour photos from the complete works of McCullin for the first time in Berlin. The retrospective with its sanguine title "The Impossible Peace" looks back to an impressive half-centennial lifework.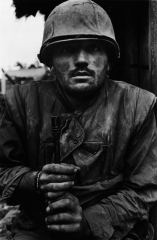 Don McCullin, born in 1935 in a poorer area of North London, is one of the most important war photographers, especially for his works in the 1960s and 1970s. In 1982, the British Government barred him from reporting on the Falkland War.
McCullin paid a high personal price for his work in war zones: he became addicted to life at the extreme, always craving new pictures. For the last 25 years, he turned to new subjects: British society and its daily life, places of pilgrimage on the banks of the Ganges, the "lost tribes" of southern Ethiopia and traces of the Roman Empire around the Mediterranean.
The exhibition has been curated by Robert Pledge, founder and president of Contact Press Images. Don McCullin will be present at the opening.
Don McCullin – The Impossible Peace: Retrospective 1958-2008
12 December 2009 – 28 February 2010, daily 1100-2000h
Opening: 11 December 2009, 1900h
C/O Berlin
Oranienburger Str. 35/36
10117 Berlin
Germany