From 28 January 2010, the Erich Maria Remarque-Friedenszentrum in Osnabruck presents with "Hunde im Krieg – Hunde als Waffe" (Dogs in Wars – Dogs as Weapons) an exhibition that addresses quite a specific subject: the use of "man's best friend" in wars.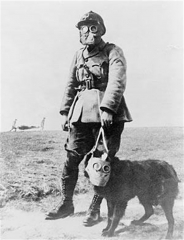 Dogs were and are used as sentries, for search and communication, but also as weapon against man and machine. During WWI alone, 20,000 dogs were used, during WWII more than 200,000 dogs. The exhibition offers ample information on the use of dogs in both World Wars and in the Vietnam War via images, videos and original exhibits, including a view on today's status. The historic dealing of this subject in the 20th and 21st centuries will be addressed, as well as the use of dogs in war in the media (especially in literature, comics and films).
Besides historical and military-scientific aspects, this is higly relevant for the culture of remembrance: outstanding dogs are honoured with medals, and memorials for dogs have been erected. A richly-illustrated short guide will be published for the exhibition.
On the occasion of the opening on 27 January 2010, Osnabruck's Lord Mayor Boris Pistorius will give an address, followed by a thematic introduction by the curator Dr. Thomas Schneider, Director of the Erich Maria Remarque-Friedenszentrum. The exhibition is part of the cooperation project "Der Hund ist auch nur ein Mensch" (dogs are just men, too) and is being supported by the City of Osnabruck, the Ministry of Science and Culture of Lower-Saxony, the Klosterkammer, the Landschaftsverband Osnabrücker Land and Reprotec.
Dogs in Wars – Dogs as Weapons
28 January – 2 May 2010
Tu-Fr 1000-1300h and 1500-1700h, Sa-Su 1100-1700h
Opening:
We 27 January, 1745h
Free of charge
Erich Maria Remarque-Friedenszentrum
Markt 6
49069 Osnabrück
Germany