Elly Beinhorn's Record Flight on a Commemorative Stamp
On 13 August 1935 at around 0330h, the already well-known aviator Elly Beinhorn started in today's Polish Gliwice (Gleiwitz) for another record flight: within one day, she wanted to fly from Germany to Asia and return; at the end, her famous flight resulted in 3,470 km within nearly 13.5 hours. This record flight, the pilot and her plane – a Bf-108 "Taifun" (Typhoon) – are being honoured by a commemorative stamp, issued on 12 August 2010 by the German postal service Deutschen Post AG.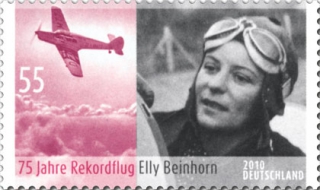 Design by Klein & Neumann, Iserlohn
On 28 November 2007, the enthusiastic aviator Elly Beinhorn died 100 years of age. On her last birthday, she was allowed to (co-)pilot a plane a last time; "already" with 72 years, she had voluntarily returned her pilot's licence. On the occasion of her 100th birthday of  the legend aviator, the Deutsche Post had already issued a commemorative envelope, stamped with a Dornier Do X; the latter surely was an impressive plane, but not a model that had any connections to Beinhorn, except that it had something to do with flying.
Thus it is nice to see that Beinhorn is at least posthumously receiving the honour to be pictured on such a stamp together with "her" plane that already had been printed on another stamp of the then-Deutsche Bundespost in 1979.
The connections to war are manifold which is hardly surprising:
Elly Beinhorn did not fly during the Second World War – contrary to so different women such as Hanna Reitsch, Beate Uhse or Melitta Schenk Gräfin von Stauffenberg. Despite her fame, she did far less become part of the Nazi propaganda machine than many of her contemporaries. Her flat in Berlin was bombed out during the later stages of the war. After the war, she hardly could await to fly again, but that was forbidden to Germans for quite some years. Thus, she renewed her pilot's licence at first in Switzerland in 1951.
The Messerschmitt Bf-108 was indeed a fast and elegant touring aircraft for up to four people – but in 1933, Reichsluftfahrtminister (Minister for Aviation) Hermann Göring ordered the Bayerische Flugzeugwerke (Bavarian Aircraft Factories) to develop a rapid courier aeroplane. The Bf-108 should later become the liaison aircraft for the Luftwaffe (German airforce), indeed. Pilots liked the plane, not the least as retraining aircraft for the Bf-109, a plane that is much more known in this context.
On 31 August 1939, the SS staged a pseudo assault on the radio station of Gleiwitz that would – together with 13 other "border incidents" – become a "legitimisation" for the German attack on Poland on 1 September 1939. From March to July 1944, four satellite camps of the Konzentrationslager Auschwitz I were installed. After the end of the war, the German population was mostly expulsed; in "de-Germanisation actions" the new administration tried to get rid of the traces of German history.
Not the least, another aircraft that has been (co-)developed in Germany bears the same name: EADS is building the former fighter and now also multi-role combat aircraft Eurofighter "Typhoon" that has originally been called "Jäger 90" (Fighter 90, and later "EF 2000") what did not appear modern any longer when the plane finally did get into serial production in 2003.
Of course, the commemorative stamp shows a civil person, a civil aircraft and a sportive record event – but the history behind all that is really far from being easy.
Share on Facebook