Barents Observer reported that the memorial for the 118 Russian sailors who died when their submarine K-141 Kursk sunk on 12 August 2000 had been "dishonoured by vandals". The monument had been unveiled in July this year in Murmansk. Its inscription "For submariners who have died in peacetime" had been stolen.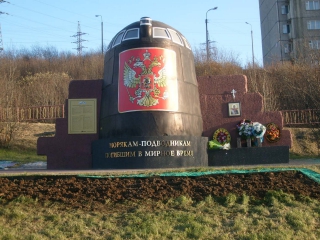 The monument's history is long and difficult: long time, nothing happened except for plans to build one, but more than eight years after the sinking, journalist Tatyana Abramova from the newspaper Murmanskiy Vestnik discovered the sail (command tower, the central element) at a scrap metal merchant. Nearly nine years after the disaster, the memorial was finally unveiled.
Thus the question remains why would somebody steal the inscription: has the scrap metal merchant not been paid enough and did he want some metal back? Had some scrap metal thieves been at work? Or were rather some people disatisfied with the quite general inscription, in which the "Kursk" is mentioned more indirectly?