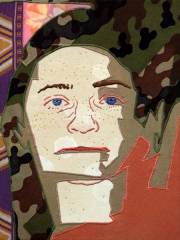 On 12 February 2013, the exhibition
"2 + 2: Phoenix Chemnitz"
will open on the premises of
Chemnitzer Künstlerbund
(association of Chemnitz's artists). In this established format, two local and two external artists meet to address a specific subject. This time, the
Chemnitz Friedenstag
(Chemnitz Peace Day) is this issue: on 5 March 1945,
Chemnitz
was severly damaged – more than 2,100 people died in this bombing. How can this central event be remembered? What has contemporary art to say on war?
Peggy Albrecht
(* 1974) and
Rose-Marie Güttler
(* 1978) are the two local artists in this show, while
Jan Bejšovec
(* 1975,
Konfliktstoff
) and
Martin Bayer
(* 1971,
Wartist
) from Berlin provide external perspectives.
Read more…
Share on Facebook