From 27 October 2012, Schamal – an artist originating from Iraq – presents his most recent Friedensvogel (peace bird) at Militärhistorisches Museum der Bundeswehr, Flugplatz Berlin-Gatow (German Air Force Museum, Berlin). As distant, but feasible vision, these peace birds are intended to take to his native country's skies and "make the children marvel, pleased and question and inspire the adults to reflect on freedom and peace".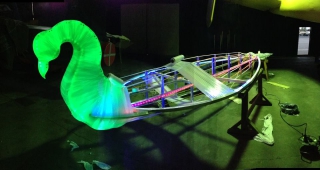 Born in 1972 in the Kurdish part of Iraq, the artist experienced as a child his homeland being bombed by the troops of his own country under the leadership of Saddam Hussein: "It was terrifying. In the night, I dreamed of flying objects, that looked like dragons or diamond eagles. They lifted me from the ground and offered me freedom and peace."
Out of this experience, Schamal developed his vision for the peace birds: since many years, he uses finds for making often light and transparent flying objects. One day, these objects should finally ascend to the Iraqi sky; to achieve this goal, he is being supported by the Institute for Aircraft Design at the University of Stuttgart.
"This work aims to enable new dreams and the hope of peace for the people and especially the children of Iraq. They are transparent flying objects that do not carry any bombs. They look like ancient creatures that returned from a distant time to reflect the Mesopotamians' imaginative past and give it back to them. This projects addresses many levels, connecting art, science, room, fantasy, politics and personal biography."[Schamal, tr. Bayer]
In 1993, Schamal fled his homeland; since 1995, he is living in Germany, where in 2006 he successfully completed his art studies at Stuttgart State Academy of Art and Design.
This new work will be presented at Luftwaffenmuseum Gatow, a branch of the Militärhistorisches Museum der Bundeswehr (Military-Historical Museum of the German Armed Forces) in Dresden. The museum is neither centrally located, nor easy to reach by public transport, but a visit is very worthwhile: there are many exhibition pieces in the former hangars and on the spacious open-air site (especially on the history of the  Cold War on the latter), including Soviet-built MiG-21 bis, MiG-23BN and Su-22 combat aircraft that had been used by Iraq in the 1980s during its war with Iran, but also against its own population.
Schamal: Friedensvogel
From 27 October 2012
Opening: 26 October 2012, 1700h
Militärhistorisches Museum der Bundeswehr, Flugplatz Berlin-Gatow
Am Flugplatz Gatow
14089 Berlin
Germany
Tu-Su 1000-1800h
Closed on 24-26/31 December 2012 and on 1 January 2013
Free admission; group tours offered for a fee
Friends of the Museum