From 8 November 2012 until 18 January 2013, ratskeller – Galerie für zeitgenössische Kunst (town hall cellar – gallery for contemporary art) in the basement of the town hall of Berlin-Lichtenberg presents the group show Barbaren der Oberschicht – Maskeraden systemischer Gewalt (Upper-Class Barbarians – Masquerades of Systemic Violence). An interesting contribution are Florian Göttke's book and video installation "toppled", addressing the countless statues of Saddam Husseins in Iraq: after Hussein was toppled, his statues shared the same fate. From symbols of his power, they became icons of his downfall, quite fitting to the dictator who at the end was pulled from a hole in the ground as dirty fugitive with a matted beard.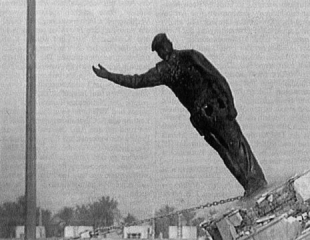 The exhibition "Upper-Class Barbarians" refers in its title to the British Justice Secretary Kenneth Clarke of 2011, who, during the the riots in London 2011 (that quickly developed from demonstrations to marauding mobs of pillaging looters), spoke of "lower-class barbarians".1 The hate figure of this exhibition (curated by Sabine Winkler) is clear-cut: capitalism is guilty, as are the "financial markets" and "the systemic mechanisms of violence that are inherent in the social conditions of global capitalism", according to the curator; capitalism's "core is not ethics, but violence".2 Karl Marx could not have found a nicer phrasing. Well, perhaps he had.
Eleven artists addressed this "systemic" violence. When Pilvi Takala (* 1981 in Helsinki) tries to enter Disneyland in a Disney-style Snow White costume (video installation "Real Snow White", 9'15", 2009), she confronts the local institutions (and visitors) of an alternative, anarchic and amusing approach. Meriç Algün Ringborg (* 1983 in Istanbul) put all the world's visa forms on 560 pages in her "Concise Book of Visa Application Forms" (2009).
Unfortunately, the curator's mace of ideology hits hard every time: in his series "Seize the Time" (2010), Søren Thilo Funder (* 1979 in Copenhagen) shows selected pages from Bobby Seale's autobiography, co-founder of the Black Panther movement, indicating all the words that refer to weapons, a considerable number. But surely, it is "the effects of systemic violence" (Winkler), when Seale called on the African Americans to arm themselves, just as the curator addresses the "education-political mission of Monopoly": "violence is an intrinsic part of the system". Olivia Plender (* 1977 in London) refers to that board game in her own game "Set Sail for the Levant": one can only win by stealing from fellow players, provided that one's life does not end in prison, in a factory or by death.
The intended target audience may appreciate the curatorial words, as one entry to the guestbook is lamenting that one could not enjoy everything for not being able to understand the "colonial language" – i.e. English.
Despite all these ideological mindcuffs, there are interesting works in this exhibition, e.g. Florian Göttke's book (150 pages, 2010, 25,-€) and video installation "Toppled" (10'10", 2011): this work is based on hundreds of amateur and press photos on the statues of the former Iraqi dictator Saddam Hussein. After his demise, countless of his statues were toppled, too, either by the public or – arguably the most famous example – by US soldiers. Substituary for the real person, these statues were beaten or otherwise humiliated, cut up and maltreated. With this iconoclasm, Göttke shows exemplarily how a former symbol of might and power receives a new meaning – and furthermore, how violence is again a human means of expression.
Barbaren der Oberschicht – Maskeraden systemischer Gewalt
8 November 2012 until 18 January 2013
Mo-Fr 1000-1800h
Opening: 7 November 2012, 1900h
ratskeller – Galerie für zeitgenössische Kunst
Rathaus Berlin-Lichtenberg
Möllendorffstr. 6
10367 Berlin
Germany