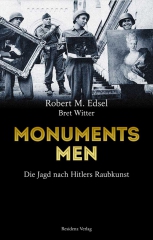 On 20 and 21 March 2013,
Robert M. Edsel
presents his book
"The Monuments Men"
and its thrilling background story in lectures with subsequent talks in Berlin and Potsdam. During the
Second World War
, the Nazis organised the "greatest theft in history" and stole countless art works from the occupied territories in Europe. The allied special unit from the
"Monuments, Fine Arts, and Archives Program"
searched for these art treasures. The author Robert M. Edsel is dealing intensively with this
art theft
and in 2007, he founded the
"Monuments Men Foundation for the Preservation of Art"
. His book "The Monuments Men" (2009) has already been translated into 19 languages, is recently available in German and is the background for the homonymous
film
directed by
George Clooney
with Clooney himself,
Cate Blanchett
,
Daniel Craig
,
Matt Damon
,
Jean Dujardin
and
John Goodman
that will be made this year.
During the Second World War, countless works of art were stolen. The "Sonderauftrag Linz" (Special Commission Linz) e.g. was an organisation directly responsible to Hitler to choose and collect art treasures for the planned "Führermuseum" in Linz: this Upper Austrian city was chosen by Hitler as his retirement home and was intended to be developed as the Reich's cultural centre. Among others, Göring was known for his aquisitiveness. The allied hunt for these stolen art works was coordinated and conducted by the "Monuments, Fine Arts, and Archives Program", as well as the protection of important cultural assets from further damage. Founded in 1943, this organisation's task to protect and secure cultural assets in war zones was the first approach to this important issue.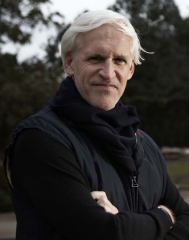 Robert M. Edsel already published to the Nazi's art theft, e.g. "Rescuing Da Vinci" (2006). Besides the foundation, he also organises  "The Greatest Theft in History Educational Program" with teaching materials to use at schools. His book "The Monuments Men" was published in German in 2013 at Residenz-Verlag (560 pages; 26,90€).

Robert M. Edsel: Monuments Men
Lecture with Q&A
20 March 2013, 2000h
Babylon Berlin
Rosa-Luxemburg-Str. 30
10178 Berlin
Germany
Entrance fee 15,- €
21 March 2013, 2000 Uhr
Waschhaus Potsdam
Schiffbauergasse 6
14467 Potsdam
Germany
Entrance fee: 10,- € (advance booking plus fees) or 12,- € (box office)