On 28 May 2013, the exhibition "Landscapes & Memory" by Hamburg-based photographer Jo Röttger will open at Bayerisches Armeemuseum (Bavarian Army Museum) in Ingolstadt. In 27 large-format photos with their picture language that reminds of romanticism, Röttger approaches landscapes and identity while addressing desire and alienation as well as the ongoing war in Afghanistan. A bilingual catalogue will be published on the occasion of the exhibition, curated by Martin Bayer (Wartist).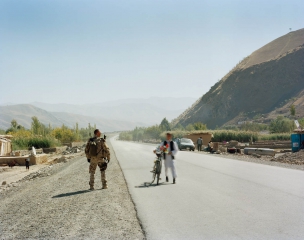 While searching for a German identity in landscapes, renowned photographer Jo Röttger accompanied soldiers of the Gebirgsjägerbataillon 232 (mountain infantry battalion 232, stationed at Bischofswiesen, Bavaria) during their combat training at the field exercise centre Letzlingen, in their following tour of duty in northern Afghanistan, and – back to their German homeland – in the Berchtesgaden Alps. In distant Afghanistan, Röttger finally found a German presence that he had looked for over here, visibly at the German armed forces' countless symbols of sovereignty
Röttger succeeds to step beyond the usual photo reportages with his both technically and artistically impressive large-format photos: the prints (sized 150 x 120 cm/59.1 x 47.2") enable the viewer a decelerated, but also forceful view on the face of war for German soldiers and thus on a specific part of German identity against the backdrop of an alien reality.
The large-format camera's slowness, its clear sharpness, the confusing motion blur, and the high dynamic range made for poetic images that create emotional "depth effects" with the viewers. Time and again, the war in Afghanistan (often perceived as archaic) seems to be condensed in Röttger's pictures, while we encounter the images from Germany as spatio-temporally disconnected. Landscapes & Memory thus examines contemporary pan-German (military) experience realms against the background of global conflicts, distant to a mere theoretical-historical reflection of German soldiers.
On the occasion of the exhibition at Reduit Tilly, a premium catalogue will be published at Peperoni Books, with essays by Dr. Ansgar Reiß (Bayerisches Armeemuseum) and Martin Bayer (Wartist). The exhibition will have an extensive accompanying programme. The artist will be present on the opening.
Landscapes & Memory – Photos by Jo Röttger
29 May – 1 September 2013
Tu-Fr 0900-1730h, Sa/Su 1000-1730h
Entrance to Reduit Tilly (incl. of special exhibition): 3,50 € (concessions 3,- €)
Opening: 28 May 2013, 1100h, opening address by Dr. Reinhard Brandl, MdB (CSU)
Bayerisches Armeemuseum
Paradeplatz 4
D-85049 Ingolstadt
Germany
Accompanying Programme:

10 June 2013, 1800h: "Quo vadis Afghanistan?" – A security-political panel with speakers from the German MoD and NATO, with support by the German Atlantic Association
July 2013: Cultural Day with presentations, traditional music and other activities, under the patronage of Agnes Krumwiede, MdB (Bündnis 90/Grüne)
Guided tours for pupils and students (please contact us for booking a tour)