Thomas Geve: "There are No Children Here" (Cologne)
From 9 May to 3 August 2014, the NS-Dokumentationszentrum Köln (Nationalsocialism Documentation Centre Cologne, NSDOK) presents the special exhibition "Es gibt hier keine Kinder" – Auschwitz, Groß-Rosen, Buchenwald ("There are no children here"). After his liberation from KZ Buchenwald, Thomas Geve, then 15 years of age, drew his memories of life in concentration camps. Proximity to death and the constant subjection to the guards are central to the documentary drawings; equally, they are a testimony of a youth's will to survive. The NSDOK exhibition shows 75 of his drawings that since 1985 are part of the Yad Vashem collections in Jerusalem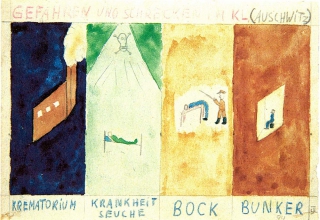 In 1943, due to their Jewish background, then-13-year-old Thomas Geve was deported together with his mother to Auschwitz. His father could manage to emigrate to London just before the outbreak of the Second World War but he failed in saving his family. Thomas Geve's mother died in Auschwitz, but at least he survived, being prepared at a mason's school for the later work in Arbeitskommandos. In January 1945, he was transported to Groß-Rosen and later on to Buchenwald, where he was liberated in April 1945. The drawings, made until June 1945, were intended as memoirs for his parents.
Today, Thomas Geve lives in Haifa, Israel. Since his retirement, he gives lectures to pupils on his experiences. On the occacion of the opening, Thomas Geve will be present. NSDOK cooperated with Dr. Jörn Wendland, Markus Thulin and Stiftung Gedenkstätten Buchenwald und Mittelbau-Dora for organising this exhibition.
NSDOK is the largest local memorial site in Germany for the victims of National Socialism, and regards itself as site for learning and research, too. Since 1988, it is located at EL-DE-Haus. Its name refers to its owener Leopold Dahmen, who rented the building to Gestapo (Nazi secret police) after the latter had confiscated it. From December 1935 until March1945, the building was the Gestapo's Cologne HQ. Since 1981, the former Gestapo prison has become a memorial site.
"Es gibt hier keine Kinder" – Auschwitz, Groß-Rosen, Buchenwald
Drawings by the Holocaust survivor Thomas Geve
9 May until 3 August 2014
Tu-Fr 1000-1800h, Sa/Su 1100-1800h, 1st Th each month 1000-2200h
Entrance 4,50 € (concessions 2,00 €), free of charge for pupils et al.
NS-Dokumentationszentrum Köln
Appellhofplatz 23-25
50667 Cologne
Germany
Share on Facebook