Embedded Art – Art in the Name of Security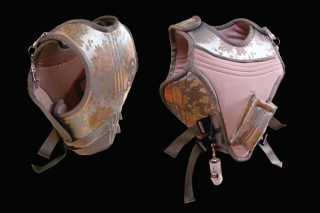 On January 23rd 2009 at 1900h, the exhibition Embedded Art – Art in the Name of Security in the Akademie der Künste (Academy of the Arts) will open in Berlin.1 The exhibition's concept was designed by the artists' group BBM (Beobachter der Bediener von Maschinen, Observers of Operators of Machines) that exists since 1989, together with the Akademie der Künste.
The group exhibition contains more than 30 commissioned works on the area of conflict of terror, threats, homeland security, surveillance and repression. The artists primarily focus on three aspects: the "new threats", the predominantly technical reactions to these threats and their resulting impact on society. Besides of performances and installations, the programme contains lectures and a film season at the cinema Zeughauskino.
The exhibition format itself is touching the issue of security: in the exhibition halls of the Akademie, only projections of the works can be seen that are transmitted from the building's secured basement by surveillance technology. The visitors may choose if they only want to walk through the exhibition hall, while the originals can only be visited with guided tours, accompanied by security personnel.
On the opening, Klaus Staeck, Johannes Odenthal and Olaf Arndt (co-founder of the artists' group BBM) will speak. Furthermore, the performance "DeDomeffigy" from Richard DeDominici will be shown, and The Temporary Soundmuseum/Kalle Laar will play the "Sound of Security".
The exhibition is open from January 24th till March 22nd, from Tuesday to Sunday from 1100-2000h. Each Friday, a "Bar on Homeland Security" ("Bar zur Inneren Sicherheit") will open from 2000h onwards. The entrance fee is 6€ (reduced 4€); on each first Sunday in a month, the fee is waivered, while young people under the age of 18 enjoy a free ride anyway.
The exhibition's catalogue (184 pages, ISBN 978-3-941560-09-3) has been published for 30.00€ including a DVD at Argo Books.
Participating Artists (status of December 10th 2008)
Alexander Krohn, Andreas Strauss; Angelika Schneider von Maydell; BBM – Beobachter der Bediener von Maschinen; Cameron Bobro; Cecilia Wee; Christina Zück & Zahid Hussein; Fons Hickmann; Georg Schmalhofer; Gunter Rambow; Hans-Werner Kroesinger; Heidi Specker; Jacques Coetzer; Jonathan Barnbrook; Jörg Möller; Jörn Buttelmann; Kalle Laar; Ken Hollings & Rathna Ramanathan; Keven McAlester; Klaus Staeck & REMOTEWORDS; Korpys/Löffler; Lars Vaupel; Lillevan & Zaji Chalem; Lutz Westermann & Peter Halasz (†); Monika Schedler; Moritz ®; Oliver Kunkel; Neville Brody; Omar Vulpinari; Paul B Davis & Gershon Kingsley; Peter Kennard & Cat Picton Phillipps; Richard DeDomenici; Sally Gutierrez; Simon Tyszko, Steve Goodman aka Kode9 & Toby Heys; Thomas Heise; Timm Ulrichs; U.R.A./FILOART; Valentinas Klimasauskas; Vassilios Georgiadis; Yuko Shimizu; Zsolt Barat
Further links:
Embedded Art Visitor Information
Embedded Art Programme
BBM
BBM (Wikipedia entry, German)
Akademie der Künste, Pariser Platz 4, 10117 Berlin, Tel. +49-30/200 57-1000 ↩
Share on Facebook