"Mother Motherland" (Kiev) and more works by Vuchetich
In today's issue of FAZ, Germany's most important newspaper, the Ukrainian author Yuri Andrukhovych ("The Secret") describes the problematic handling of democracy in his motherland in his article "Bitte beobachten Sie mein Land! – Was soll die Ukraine in Europa?" (Please observe my country! – What does Ukraine suppose to be in Europe?). He also refers to the re-emerging adoration for Stalin (see also our article on the new Stalin memorial in Zaporizhia).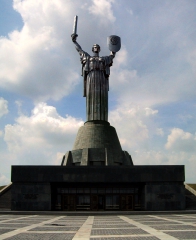 In the printed issue of FAZ, there is a stunning picture by a Bilderberg photograher of the statue "Mother Motherland" in Kiev (due to copyright reasons, we can only show a picture of the Wikipedia article): like her "big sister" in Volgograd (former Stalingrad), the battlesome mother raises her 16 m-long sword for defence; in Kiev, she additionally holds a shield with the emblem of the Soviet Union towards the attacker. The state of 62 m rises above its base of 40 m height. The memorial with its overall heights of 102 m is thus the six-largest in the world and overtops also the Statue of Liberty in New York.
Originally, the monument was planned to be unveiled on 9 May 1980, the 35th anniversary of victory against Germany; the works had begun in 1972. However, it could only be opened one year later by General Secretary of the Communist Party Leonid Brezhnew.
Like the statue "Mother Motherland Calls" on the Mamayev Hill in Volgograd, the sculpture "Swords to Ploughshares" in the garden of the UN HQ in New York (a present of the Soviet Union to the UN) and not the least the Soviet War Memorial at Berlin Treptower Park, "Mother Motherland" in Kiev had been created by Yevgeny Vuchetich. It was to become his last heroic and allegoric monumental statue: the artist died on 12 April 1974 and could thus not live to see its completion. Wutschetitsch was of Montenegrin origin and was born in 1908 in Yekaterinoslav, today's Dnipropetrovsk in Ukraine. He was one of the leading artists of Socialist Realism and received the  "Order of the Hero of Socialist Labour" in 1967. His works are hugely impressive not just because of their sheer size and survive the changes of time.
Share on Facebook