Good things come to those who wait… The memorial for the 118 Russian sailors who died when their submarine K-141 Kursk sunk on 12 August 2000 was finally unveiled in Murmansk. Nine years after the disaster, there is now a memorial to remember the submariners in Murmansk.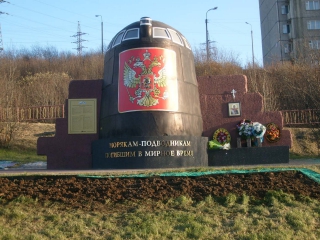 Central component of the monument is the submarine's sail (command tower)
. In mid-March this year, journalist Tatyana Abramova from the newspaper Murmanskiy Vestnik discovered the sail at a scrap metal merchant, an incident that stirred up the issue quite a bit.
Not just the commander of the Russian Northern Fleet Nikolai Maksimow declared the issue as top priority; the Gouvernor of Murmansk Oblast, Dmitry Dmitriyenko took "personal resposibility" that the memorial was to be built.
An exact date cannot be given for the time being, but it was planned to unveil the monument on the Day of the Russian Navy, celebrated on the last Sunday of July each year. Now, it is finally put in place, after the sail had been hoisted to its new place in June, as Barents Observer reported: next to the church "Our Saviour on the Water", close to the harbour and with the typical concrete slabs building in the background. The inscription reads "To the submariners who died in peacetime".
A few years ago, a small memorial had been erected in the harbour city of Severodvinsk.