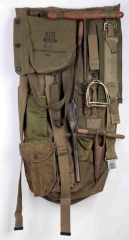 From 18 May to 13 June 2011, the Vienna-based gallery
Hilger Contemporary
presents works by
Sara Rahbar
. The exhibition of the artist, born 1976 in Teheran, has the enchanting title 
"I have no faith left for the devil to take"
. Yet as a child, she had to flee with her family from her native country due to the
Islamic Revolution
in
Iran
. Today, she mainly lives and works in New York.
Her work ranges from photography to sculpture to installation and explores issues of belonging, memory and displacement. But in the end Rahbar's work is always stemming from her own life and is exceedingly autobiographical.
In the past few years she has become well known for her ongoing "Flag series" (2008–Present) in which traditional fabrics and objects are reworked as collages that form various incarnations of the American and Iranian flags, exploring ideas of national belonging, as well as the conflicting role of flags as symbols of ideological and nationalistic violence.
Recently, she expanded this approach by using rucksacks, tarpaulins and other matériel of the US Armed Forces as basis, and adding petrol nozzles, stirrups, holsters, military badges or Iranian traditional symbols. Thus, she is addressing uprooting, the tension between foreignness and familiarity, and not the least war, traumata and societal perceptions.
A catalogue will be published to accompany the exhibition.
Sara Rahbar: "I have no faith left for the devil to take"
18 May – 13 June 2011, Tu-Fr 1100-1800h/Sa 1100-1600h
Opening: 19 May 2011, 1900h (the artist will be present)
Dorotheergasse 5
1010 Vienna
Austria