The international symposium "Memorial Mania – Negotiating Social and Political Strategies of Memory" of the American Academy Berlin at Haus der Kulturen der Welt (9-10 December 2011) addresses contemporary issues of the culture of remembrance. The emphasis lies on memorials and not the least on German and American approaches to memory. Remembering the terrorist acts of 9/11 will also be an issue on their 10th anniversary.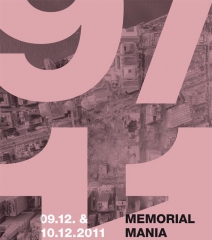 According to the press statement:
What way is it demanded of us that we remember? Can monuments serve our collective memory? Ten years after 9/11, and six years after the opening of the Holocaust Memorial Berlin, this symposium will contemplate the memorial as a form of memory culture and as a site of clashing political strategies.
Does a memorial heed our changing perceptions of "the event" over time, or does it dull our collective recollection? Should a memorial urge catharsis or categorically avoid normative reactions? Is a memorial meant to instantiate our interpretation of history or to encourage meditations on it? When we encounter a memorial, what are we being asked to remember? How and by whom are the politics of representation invoked? Panels comprised of historians, artists, journalists, writers, and politicians will discuss the different aspects and forms of historical commemoration.
On the occasion of the opening, Dieter Daniels, Professor of the History of Art and Media Theory and Member of the experts' workshop on the Freedom and Unification Memorial in Leipzig, and James E. Young, Professor of English and Judaic Studies and member of the selection board of the Memorial to the Murdered Jews of Europe, will speak.
Further informationen about this bilingual conference can be found in this PDF document (1,5 MB).
Memorial Mania – Negotiating Social and Political Strategies of Memory
Fr 9 December 2011 from 1800h
Sa 10 December 2011 1100-1800h
Haus der Kulturen der Welt
John-Foster-Dulles-Allee 10
10557 Berlin
Germany
Free admission; registration until 8 December 2011 1700h at program@americanacademy.de.
———
On the occasion of the 10th anniversary of 9/11, Wartist organised the group show "Zeitenwende" (turning point).
Addition, 7 Dec 2011: Jens Kloppmann's video installation "6:57 P.M." will be shown during the conference.