Kata Legrady: Bombs & Candies – Dulce et decorum (Bazon Brock, Berlin)
From 26 January until 26 February 2012, Kata Legrady presents her exhibition "Bombs & Candies. dulce et decorum" at Bazon Brock's recently opened location "Denkerei/Amt für Arbeit an unlösbaren Problemen" (Thinkery/Bureau for Working on Irresolvable Problems) in Berlin. Grenades, pistols and assault rifles (the iconographic AK-47, of course) have been decorated with candies and remind of Antonio Riello's "Ladies Weapons" while taking the same track between aesthetics and destruction.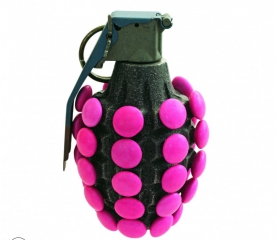 The object per se has a central role for the artist. Born in Barcs (Hungary) in 1974, she is now living in Hanover, Budapest and Paris. Since 2008, she is working on her series "dulce et decorum", that is strolling between decoration and ornament, belittlement and aesthetics, glorification and ridiculousness, tribal art and customisation.
Is death becoming sweet with such weapons? Is it a possible reality at all, this sweet and commendable death, to which the exhibition's title is referring? "Dulce et decorum est pro patria mori" (it is sweet and fitting to die for one's country), Horace once said. Wilfred Owen replied to "the old lie" with his powerfull poem "Dulce et Decorum est" that he wrote in 1917 (but that was only posthumously published in 1920) and in which he describes a gas attack during the First World War and subsequent, agonising death.
Kata Legrady: Bombs & Candies – dulce et decorum
26 January until 26 February 2012
Denkerei/Amt für Arbeit an unlösbaren Problemen
Oranienplatz 2
10999 Berlin
Germany
Share on Facebook