We are pleased to announce another exhibition at ARD-Hauptstadtstudio, Berlin: "Die Prosa der Ereignisse" (The Prose ov Events), to be opened on 7 February 2012. Several cycles and other individual works by Jens Kloppmann will form a cross-section of his work. Both the materials and techniques used are manifold and reach from video installations and retouched photos to plaster casts and fretworks, to name a few. Ulrich Deppendorf, Head of ARD-Hauptstadtstudio,  will open the exhibition that is curated by Martin Bayer . This exhibition, too, will be kindly supported by Deutsche Atlantische Gesellschaft e.V. and SONY Deutschland.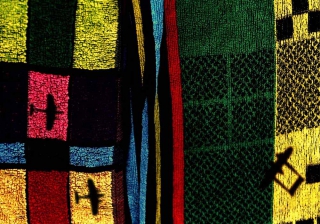 A quote by publicist Sebastian Haffner may serve as this exhibition's leitmotif:
"History is not something fixed such as nature. History itself is artificial. Not everything that has happened will become history, but only sometimes when historians consider it worth to write it down somewhere. (…) History – to be very harsh – is not reality, but a branch of literature."1
After taking part in the Wartist group show "Zeitenwende" (turning point) about ten years of 9/11, also at ARD-Hauptstadtstudio (1 September – 23 October 2011), Jens Kloppmann presents in "Die Prosa der Ereignisse" a cross-section of his work of the past years: A series of video loops is condensing moments of recent history. The cycle "Bullet Holes" transfers plaster casts of bullet holes on Berlin house fronts into an artistic level. In the series "Diktatoren mit Tieren" (dictators with animals), Kloppmann combines historical and contemporary despots with animals that much more emphasise their characters than the usual symbols of might and power. The cycle "Im fotografischen Exil – Rache für Trotzki" (in the photographic exile – revenge for Trotsky) puts Trotsky (who was removed from official photographs during Stalinism) into other historical photos and thus offers an artistic exile. The diversity of materials used will be completed by fretworks, confronting the viewer with historical, but also pop-cultural links.
The artist will be present on the occasion of the opening. At the end of the exhibition, a catalogue will be published. We are very grateful for the kind support by Deutsche Atlantische Gesellschaft e.V. and SONY Deutschland.
Die Prosa der Ereignisse
Works by Jens Kloppmann
8 February – 15 April 2012 (daily after reservation by phone, fax or email)
Opening: 7 February 2012, 1900h (prior reservation necessary)
ARD-Hauptstadtstudio
Wilhelmstr. 67a
D-10117 Berlin
Germany
Phone: +49-(0)30-2288 1100
Fax: +49-(0)30-2288 1109
Email kommunikation@ard-hauptstadtstudio.de