Markus Georg Reintgen: "Remember September"
Ten years have now passed since the  attacks of 9/11 on the USA that profoundly changed the world. Artists try to cope with these traumatic events, including disabled artists such as Markus Georg Reintgen (* 1963 in Nastätten, Germany) in his series "Remember September".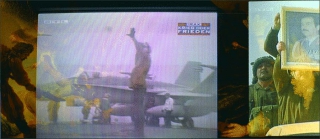 In his five-part series "Remember September", Reintgen uses screenshots of TV images that came down on the world during this time: countless, non-stop, manipulating. Reintgen is travelling through these TV mazes and its digital images, while presenting their superficiality, illusions and factoids by examining their effect.
Thus, Guantanamo and Wal-Mart become one, like tanks and flags, combat jets and politicians. The media cacophony is being condensed even more. The 9/11 attacks per se are irrelevant here, but the pictures of the following events, such as the wars in Afghanistan and in Iraq.
The five large-format works  (between 60 x 180 and 80 x 180 cm, lambda prints on alu dibond) were made between 2002 and 2003. In case of interest, one can contact the online gallery InsiderArt.
Share on Facebook