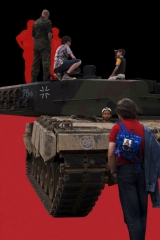 Photo artist
Markus Georg Reintgen
is addressing war and violence in his work (see also the
Wartist article about his series "Remember September"
). The exhibition
"Krieg – Väter und Söhne"
(War – Fathers and Sons) at
Anti-War Museum
in Berlin (20 October 2012 to 6 January 2013) will show (digitally altered) photos on this subject.
The artist did travel to historic places such as Normandy where the largest Allied invasion of the Second World War took place. He also went to numerous "Open Days" of military garrisons in which war becomes quite harmless, "at one's fingertips" if not even for playing. Reintgen alters these photos with red and black areas. Humans become silhouettes, exchangable, anonymous. The men on Reintgen's images have a double role: they are protectors and destroyers, fathers and sons, seducer and seduced alike.
The artist will be present on the occasion of the opening on 19 October 2012 at 1700h. Welcoming addresses will be given by Tommy Spree, head of the museum, and the exhibition's patron Dr. Christian Hanke, District Mayor of Berlin-Mitte, followed by an introduction by Prof. Dr. Annegret Jürgens-Kirchhoff, whose habilitation treatise  "Schreckensbilder" (Terror Images, 1993) was about war and art in the 20th century.
Markus Georg Reintgen: Krieg – Väter und Söhne
20 October 2012 – 6 January 2013
Opening: 19 October 2012, 1700h
Daily 1600-2000h, no entrance fee
Antikriegsmuseum (Anti-War Museum)
Brüsseler Str. 21
13353 Berlin
Germany