Matthias Ley: Remembering Gwangju (Bürgerforum Wunsiedel)
From 27 October to 2 December 2012, photographer Matthias Ley presents photos from his series "Remembering Gwangju" at Bürgerforum Wunsiedel. Made 2009 to 2010, the work remembers a central event for the development of democracy in South Korea: the revolt in the city of Gwangju against the military dictatorship after the declaration of martial law on 18 May 1980, up to the "Gwangju massacre" on 27 May 1980. While the  crushing of the protests at Tiananmen Square in Beijing on 4 June 1989 received worldwide attention, there was hardly any coverage of the Gwangju massacre in Western media.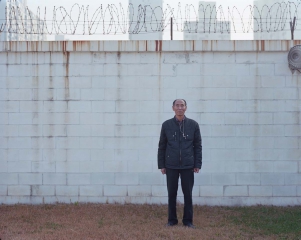 Ley, born in 1965, moved to Japan in 1991 to work as photographer. "Remembering Gwangju" is a search for traces with his 4×5″ large format camera: together with his Korean wife, the artists looked for survivors of this pro-democracy movement and talked with them about the events. The impressive portraits are supplemented by photos of important locations.
The casualty figures are still hard to define. Back then, governmental authorities announced the death of 154 civilians, 22 soldiers and 4 policemen. While at least 13 of the 22 soldiers died of a friendly-fire incident, the figure of policemen might be considerably higher as many liberated captured protesters and were subsequently shot by soldiers or imprisoned, never to be seen again. During the 1990s, a commission declared that 207 people had been killed and some 1,000 more severly wounded, while victims' associations estimate that more than 1,000 people had been killed and some 15,000 had been wounded. Thousands had been locked away for years, badly treated or tortured, without that their relatives knew about their whereabouts.
Park Sang Chol was 14 years of age, as soldiers opened fire on the demonstrators. A bullet made him paraplegic, and since then he is suffering severe pain. Lee Chu Ja was pregnant when she was hit by a bullet in her belly. The subsequent operation had to be done without anaesthetics to prevent the unborn baby from even more harm. She was beaten while in the hospital, until she was told that she could leave as she had been confused with somebody else. Her friend Lee Sung Soon was hit in the chest during her way home; while in hospital, she was interrogated and beaten daily. The artist Hong Sung Dam made posters and banners for the protesters and told Ley that the people shared their food with each other during the revolt, reminding him of the Bible. Yun Suk Dong shows a portrait of his son Yun Sang Won, a student leader who was killed: "My son never was a communist. He was just interested in achieving fair an equal treatment for the workers."
"Remembering Gwangju" has been published as book, too. The artist will be present on the occasion of the opening.
Matthias Ley: Remembering Gwangju
27 October to 2 December 2012
Opening: 26 October 2012, 1930h
Bürgerforum Wunsiedel – StadtGalerie
Theresienstr. 1
95632 Wunsiedel
Germany
Sa 1100-1400h and Su 1400-1700h
Share on Facebook