Peter Piller: Tatsächliche Vermutungen (Capitain Petzel, Berlin)
From 3 November until 22 December 2012, the Berlin-based gallery Capitain Petzel presents the exhibition "Tatsächliche Vermutungen" (real assumptions) of its artist Peter Piller, represented by the gallery since earlier this year. Piller, born in 1968, often uses his huge newspaper and image archive for his works, for which he applies a new classification system to the results.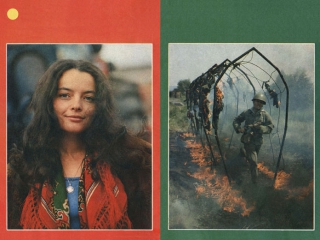 The single exhibition consists of several segments: in his series "Umschläge" (covers, 2011-2012), Piller combined the front and back covers of the former NVA magazine1 "Armeerundschau" (army review) and thus military scenes with images of women that are – despite the clothes worn – clearly erotically charged: death and sexualty joining hands.
For the wall installation "Noch immer Sturm" (Still Storming, 2012), Piller combined photos from First World War battlefields with empty spaces and pictures of seascapes from a 1920s geographies textbook. The series "Tatsächliche Vermutungen" – also the exhibition's title – consists of 30 film stills of a German 1970s TV crime series: as deserted as the previously mentioned battlefields and seascapes, they question alleged documental qualities and confront the viewer with existing horror in the harmless appearance of the familiar. These series are supplemented with further drawings and individual works.
"Tatsächliche Vermutungen"
3 November until 22 December 2012
Tu-Sa 1100-1800h
Opening: 3 November 2012, 1800-1930h
Capitain Petzel
Karl-Marx-Allee 45
1078 Berlin
Germany
Share on Facebook