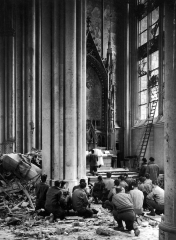 From 18 January until 14 April 2013,
Martin-Gropius-Bau
Berlin presents the exhibition
"Photographs 1930-1945"
with numerous works by American
Margaret Bourke-White
(1904-1971). In a male-dominated world, she successfully fought for her position: she shot the title of the very first
Life
magazine of November 1936 and continued to work for this and other magazines. Not the least her pictures from
World War II
became famous throughout the world.
Bourke-White was driven by an "unquenchable desire to be present when history is being made". She thus travelled to the Soviet Union during its first Five-Year-Plan and documented the drought of 1934 in the USA, the German invasion of the USSR in 1941, the Allied bombing of Nazi Germany during the Second World War and not the least the liberation of Buchenwald concentration camp. For Life, she photographed the destroyed German cities during the summer of 1945.
155 photos, letters and further documents are part of the exhibition, with a focus on her works of the 1930s and 1940s for which she had travelled to the Soviet Union, Czechoslovakia, Germany, the UK and Italy. The documents shown include correspondence with people such as Georgie O'Keeffe and Winston Churchill.
The exhibition was curated by Olivia María Rubio and has been organised byLa Fábrica Madrid in cooperation with Martin-Gropius-Bau, Preus Museum Norway, The Hague Museum of Photography and Syracuse University from the USA. An English catalogue has been published by La Fabrica, Madrid (192 pages with 150 pictures).
Margaret Bourke-White: Photographs 1930-1945
18 January until 14 April 2013, We-Mo 1000-1900h
Opening: 17 January 2013, 1900h
Entrance fee: 5€, concessions 3€; free of charge for people up to 16 years
Martin-Gropius-Bau
Niederkirchnerstraße 7
10963 Berlin
Germany