On Friday 25 January 2013 at 2400h, the project Videoart at Midnight presents the four video installations Serious Games I-IV (2010) by the German documentary filmmaker and media artist Harun Farocki. Since some four years, the collector Ivo Wessel and the gallery owner Olaf Stüber present video art once a month at the cinema Kino Babylon in Berlin-Mitte. The four works by Farocki address training methods by the U.S. military and computer-based support of soldiers affected by post-traumatic stress disorder. Passing between war games, war simulations and real war seems to become increasingly fluent.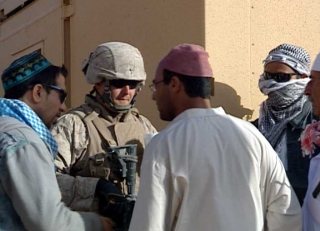 Farocki combines sequences from computer simulated mission scenarios in Afghanistan and Iraq with training soldiers. In Serious Games I: Watson is Down (8′) the artist addresses death in simulations. Serious Games II: Three Dead (8′) shows the training at an artificial training centre – but the "Iraqi"/"Afghan" town appears as if it were transfered from a computer simulation into reality. Serious Games III: Immersion (20′) and Serious Games IV: A Sun without Shadow (8′) address post-traumatic stress disorder: for its treatment, the soldiers use game-based simulations, similar to those used in training them beforehand.
The artist will be present.
Videoart at Midnight #41: Harun Farocki
Fr 25 January 2013, 2400h
Admission free
Cinema Babylon
Rosa-Luxemburg-Str. 30
10178 Berlin-Mitte
Germany