Steve McCurry: In the Flow of Time (Kunstmuseum Wolfsburg)
From 19 January until 16 June 2013, Kunstmuseum Wolfsburg shows the exhibition "In the Flow of Time – Photographs from Asia 1980-2011" with pictures by Steve McCurry. Thus, the colourful work by the US photographer (* 1950) will be presented in Germany for the very first time. The exhibition consists of 115 images by the Magnum photographer from countries such as Afghanistan, India, Cambodia, Kuwait, China or Nepal: "I see it was the vibrant colour of Asia that taught me to see and write in light". While quite many of his photos appear to be arranged, he refuses this method and solely takes photos of moments happening, on which the exhibition's title is referring to.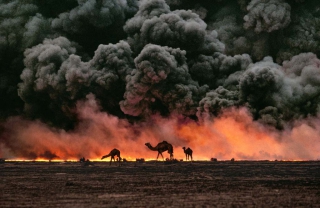 Short after the Soviet invasion of Afghanistan, he entered the war-torn country in 1979 via the Pakistani border. Disguised as Mujahedin, he sew the film rolls in his clothing and was the first photographer to report about this war. In 1984, he took a photo of the twelve-year-old Sharbat Gula: this impressive portrait of an Afghan girl became a symbol of the war in Afghanistan as title of National Geographic. In 2002, McCurry met again the women again, then in her late 20s: she has prematurely aged for having endured war nearly her whole life.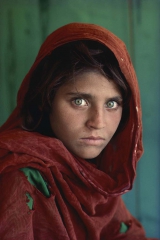 Steve McCurry: "In the Flow of Time – Photographs from Asia 1980-2011"
19 January until 16 June 2013; Tu 1100-2000h, We-Su 1100-1800h
Opening: 18 January 2013, 1900h
Entrance fee: 8€, concessions 4€, family ticket 12€
Kunstmuseum Wolfsburg
Hollerplatz 1
38440 Wolfsburg
Germany
Share on Facebook
Categories:
Hinweise, Termine
Afghanistan, Ausstellungen, China, Fotografie, Indien, Künstler, Kuwait, Pakistan, UdSSR, Vernissagen