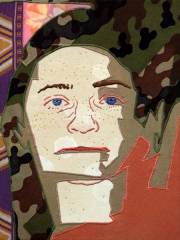 On 12 February 2013, the exhibition
"2 + 2: Phoenix Chemnitz"
will open on the premises of
Chemnitzer Künstlerbund
(association of Chemnitz's artists). In this established format, two local and two external artists meet to address a specific subject. This time, the
Chemnitz Friedenstag
(Chemnitz Peace Day) is this issue: on 5 March 1945,
Chemnitz
was severly damaged – more than 2,100 people died in this bombing. How can this central event be remembered? What has contemporary art to say on war?
Peggy Albrecht
(* 1974) and
Rose-Marie Güttler
(* 1978) are the two local artists in this show, while
Jan Bejšovec
(* 1975,
Konfliktstoff
) and
Martin Bayer
(* 1971,
Wartist
) from Berlin provide external perspectives.
In the past decade, March 5th has been established as Chemnitz Peace Day. It serves to remember that night which strongly shaped the city's appearance. It's purpose is, too, to protect this legitimate remembrance of a traumatic event from usurpation by neo-Nazi groups. Again and again, right-wing elements try to abuse such days for their own political aims: through recriminations, one's own historic responsibility should be diminished. Even more so, it is important that civil society does not turn a blind eye to such views, but safeguards its memory, not the least regarding the responsibility arisen – be it dealing with one's own history or the security-political presence, with the ultimate aim of a more peaceful world.
Connecting element of the works presented is the historic arc of suspense that makes Chemnitz so unique. Industrialisation, war destruction, Socialist architecture and capitalist crisis have left their marks not just on the cityscape, but also on the people. When on 5 March both the admonishers of the last war and the protagonists of contemporary conflicts face each other, this exhibition will not shy at a contentual controversy, but also refers to the "NSU"1, whose murderous activists could go underground in Chemnitz with the help of sympathisers for a reason.
The contemporary works of the four artists show that Chemnitz is not on the back burner, but on the front of a political development with an open end. Peggy Albrecht presents prints with views of the city that is still maimed; Rose-Marie Güttler addresses war and peace in oil paintings and an installation; Jan Bejšovec refers in his textile works to Chemnitz's destruction and reconstructionsich, to history and equally to right-wing "NSU" terror of present times; Martin Bayer addresses our perception of war with photos of scrapped military aircraft from his cycle grounded by detaching these weapon systems from their historic context.
All four artists will be present at the opening. The laudatory speech will be held by Michael Leutert, MdB (Die LINKE) and Maximilian Münch will play music.
"2 + 2: Phönix Chemnitz"
12 February until 15 March 2013
Tu+Th 1100-1700h, Fr 1300-1800h
Opening: 12 February 2013, 1900h
Chemnitzer Künstlerbund
Moritzstraße 19
09111 Chemnitz
Germany
NSU – National-Socialist Underground, a right-wing terror organisation responsible for the deaths of at least nine immigrants and one policewomen ↩