Bryan Adams: Exposed (Dusseldorf)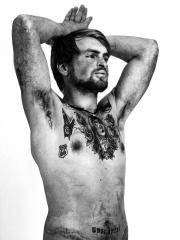 From 2 February until 22 May 2013,
NRW-Forum Düsseldorf
presents the photo exhibition
Exposed
with works by
Bryan Adams
, mostly known as musician. Many of the some 150 prints shown are glamour portraits of actors and fellow musicians. As maximum disruption to all those immaculate stars, Adams's portraits of British war invalids are shown, too: a new series of impressive portraits of humans marked by war. Protheses replace the former limbs, monstrous scars refer to pain and injuries. According to Adams, these pictures are his way "to show the legacy of war".
"They do not allow their disability disconnecting them from life", Adams said about the soldiers who lost their arms, legs or eyesight in Afghanistan or Iraq. The protheses and injuries are not hidden to the viewer, but highly visible on the pictures. They are about the soldiers' will, their defiance, their pride and their humour. Life goes on: they still have it – barely, one is tempted to think.
Unfortunately, the NRW-Forum was not brave enough to openly address this issue : just a single out of eight press photos shows a soldier, and that one is of private Karl Hinett, who could be a model with his body, the tattoos and his self-confident pose – except for all those scars and the burnt arms, while the tattooed writing unscarred under his navel refers to the engrafted skin on his belly.
Adams rejects the missions in Afghanistan and Iraq as wrong. "But who am I?" said Adams, humble as always. How many soldiers have already been wounded and traumatised? It is important not to forget about these people, and Adams's portraits remind us of that.
Steidl published the catalogue (304 pages, 65,- €).
Bryan Adams: Exposed
2 February until 22 May 2013
Tu-Su 1100-2000h, Fr 1100-2400h
Entrance fee: 7,80 € (concessions 5,80 €, Fridays after 1800h 3,80 €)
NRW-Forum Düsseldorf
Ehrenhof 2
40479 Dusseldorf
Germany
Share on Facebook