Usually, wartist.org contains articles about exhibitions of other artists, movies, galleries and museums. Today, however, we have the pleasure to write on our own issues: ausgebildete Photographer Martin Bayer (educated at Lette-Verein Berlin) presents from 28 February to 10 April 2014 his exhibition grounded/airborne at Kleine Galerie (Torgauer Kunst- und Kulturverein "Johann Kentmann" e.V.). The photos from his series grounded show details of retired military planes; they will be historically commented by some aerial pictures from the First World War. Grounded addresses the medial and artistic aestheticisation of weapons, while both the clear assignment of the pictured objects to historic events and the alleged simple classification into "friend" and "enemy" become desintegrated.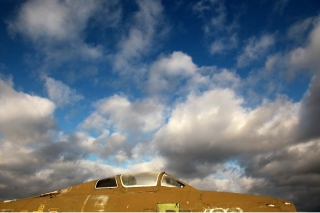 The works from the series grounded will be commented by historic aerial pictures from the First World War. 100 years ago, one of the most horrible wars of mankind commenced: millions of soldiers and civilians were killed, even more were wounded and traumatised. The importance of aviation for reconnaissance and aerial observation was realised quickly; soon thereafter, pilots threw flechettes at first, then grenades and finally bombs on "targets" at the ground. The conquest of air space soon became a nemesis for the people who remained on the ground.
What remains of war? Scarred landscapes, disabled bodies and souls, traumata. All of this cannot be forgotten and even less so suppressed. An active work of remembrance always leads to the presence and with it to future – to a future that will hopefully try to learn from the past. grounded/airborne is a part of it.
grounded/airborne
28 February until 10 April 2014
Tu-Fr 1000-1700h, Su 1400-1700h and by arrangement
Opening: 28 February 2014, 1900h
Kleine Galerie
Torgauer Kunst- und Kulturverein "Johann Kentmann" e.V.
Schlossstr. 11
D-04860 Torgau
Germany