From 27 April until 27 July 2014, the exhibition "Kein Entkommen" (No Escape) about the  graphic novel "Im Westen nichts Neues" (All Quiet on the Western Front) by Peter Eickmeyer will be shown at the Erich Maria Remarque Peace Centre in Osnabrück. In three years' time, the Melle-based artist made his adaption of Erich Maria Remarque's world-famous novel, a cornerstone of addressing the First World War in literature. The exhibition includes original drawings from the graphic novel and delivers insight into its making.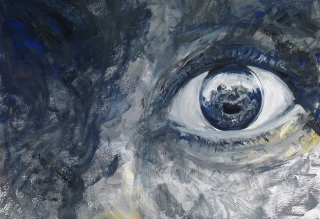 Not just in Germany, graphic novels are still neglected as medium or even perceived as harmless entertainment for children. However, in Belgium, France and the USA, among others, countless graphic novels have proven that they are able to convey historic and social issues to an adult audience. Regarding the First World War, one may refer to the works of Jacques Tardi (e.g. "Goddamn this War!", "It Was the War of the Trenches", "Varlot Soldat"), Maël ("Notre Mère la Guerre", together with Kris), Jean-Denis Pendanx ("Svoboda !", also with Kris), Barroux ("On les aura !"), Jean-Pierre Gibrat ("Mattéo"), Gerolf Van de Perre and Johanna Spacy ("Gewonde Stad", "Afspraak in Nieuwpoort"), Simon Spruyt ("Junker – Een Pruisische Blues"), Ivan Petrus Adri­aens­sens ("Elsie en Mari, Engelen van Flanders Fields") or the impressive leporello "The Great War: July 1, 1916 – The First Day of the Battle of the Somme" by Joe Sacco. Graphic novels on this issue by German authors are still rare, e.g. the recently published "1914: Ein Maler zieht in den Krieg" (1914: A Painter Goes to War) by Reinhard Osteroth and Reinhard Kleist.
On 1 June 2014, Peter Eickmeyer's adaption will be published; working on it was an "heartfelt wish" for the author. Even 85 years after its first publication, the original novel with its strong plea for humanity has not lost its vigorous language. Eickmeyer has found suitable ways of visualisation, including the colours – from a cool greyish blue to various earthen tones -, the character's faces, and the details of life and death at and behind the front.
The exhibition will be opened on Sunday, 27 April 2014 at 1100h by mayor Burkhard Jasper, with an introduction by Dr Thomas F. Schneider. A reading with Lioba Meyer and Peter Eickmeyer will be offered on Tuesday, 27 May 2014 at 2000h at Erich Maria Remarque-Friedenszentrum called "Töten – es war unser erster Beruf im Dasein. Was soll aus uns werden?" (Killing – it was our first profession in being. What is to become of us?).
"No Escape"
Exhibition on the graphic novel "All Quiet on the Western Front" by Peter Eickmeyer
27 April until 27 July 2014
Tu-Fr 1000-1300h, 1500-1700h; Sa/Su 1100-1700h
No entrance fee
Opening: 27 April 2014, 1100h
Reading: 27 May 2014, 2000h
Erich Maria Remarque-Friedenszentrum
Markt 6
D-49074 Osnabrück
Germany