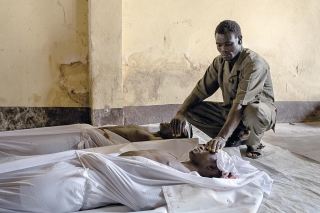 On 24 February 2016, the documentary
"Kriegsfotografinnen: Der Kampf um Bilder, Leben und Tod"
(women war photographers: fighting for pictures, lives and death) by
Sigrid Faltin
will have its premiere at Martin-Gropius-Bau Berlin. After the screening,
Pascale Hugues
(Le Point) talks with
Christine Spengler
, one of the film's photographers.
Today, more women than men report from conflict zones. They get to places that are forbidden to men. The documentary presents women who have documented wars from the past 100 years: French Christine Spengler (*1945) worked in Afghanistan, Iran, Northern Ireland, Chad and Vietnam; French Camille Lepage (1988-2014) died on duty in unexplained circumstances in the Central African Republic's civil war; American Lee Miller (1907-1977) was one of the few women photographers of the Second World War; Alice Schalek (1874-1956) worked in the Austrian-Hungarian Kriegspressequartier (embedded journalists) during the First World War; Gerda Taro (1910-1937) photographed and died in the Spanish Civil War.
Admission is free of charge, but limited to the venue's capacities.
The Franco-German TV station arte will show the film on the occasion of the International Women's Day on 8. March 2016 at 2255h.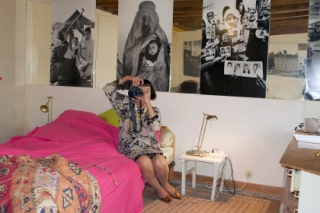 Kriegsfotografinnen: Der Kampf um Bilder, Leben und Tod
Documentary by Sigrid Faltin
arte/SWR 2016, 52′
Martin-Gropius-Bau
Niederkirchnerstr. 7
10963 Berlin
Germany
Film premiere and discussion with Christine Spengler: 24 February 2016, 1900h
arte
Screening on 8 March 2016, 2255h