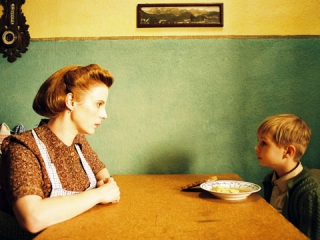 On 22 January 2009, this year's Oscars have been presented in Los Angeles, arguably the world's most important film awards. At least some of the winners are dealing with war and terror. We are especially pleased about the Oscar for the German short movie Spielzeugland (Toyland) by Jochen Alexander Freydank.
Best Actress: Kate Winslet in The Reader
(Stephen Daldry, USA)
Now she has finally received the Oscar, for her role in the otherwise somewhat dissatisfying film "The Reader": A young man is reader to a women in whom he falls in love – only to discover that she is a former Nazi concentration ward. A film about guilt, atonement and forgiveness. For her role in this film, Winslet recently received a BAFTA Award (for her main role) and a Golden Globe (as supporting actress).
Further Oscar nominations (4): Best Motion Picture, Best Director, Best Cinematography, Best Adapted Screenplay
Wikipedia entry on the book by Bernhard Schlink
Best Short Film: Toy Land (Spielzeugland)
(Jochen Alexander Freydank, Germany)
Germany 1942: a mother tells her son the lie that their Jewish neighbours will be sent to a toyland. The boy believes her and wants to join his best friend… A fascinating short film by Jochen Alexander Freydank that already received a number of awards and that is able by using canny means to deal with lies, guilt and morals.
Links:
Congratulations!
Even more movies tackling war and terror had been nominated, though (in alphabetcal order). I would especially like to point to the two documentaries "The Betreyal" and "The Conscience of Nhem En", both quite aside to the usual Hollywood productions.
Australia
(USA/Australia)
This love story has the Second World War as its background and touches (if only for the subsequent effects) the Pacifc theatre of war and the involvement of Australia.
Oscar nomination: Costume Design
Links:
The Baader Meinhof Complex
(Germany)
The film tries to draw an authentic picture of the German 1970s terror organisation Rote Armee Fraktion (Red Army Faction, RAF).
Oscar nomination: Best Foreign-Language Film: Bernd Eichinger, Uli Edel
The Betreyal (Nerakhoon)
(USA)
This documentary by Ellen Kuras and Thavisouk Phrasavath describes the long-term effects of the Vietnam War on the example of the latter person, a refugee from Laos: his father had worked during the Vietnam War for the CIA. After the USA's withdrawal, repressions entered their lives. His mother fled with eight of her ten children to the USA to live an impoverished life.
Oscar nominiation: Best Documentary
Links:
The Conscience of Nhem En
(USA)
This documentary short film by Steven Okazaki tells the story of Nhem En, who was in 1975 a 16-year-old soldier in Cambodia during the rule of the Khmer Rouge. He was ordered to take photos of tens of thousands of his fellow countrymen that had been imprisoned in Tuol Sleng, where they were usually being tortured and murdered.
Oscar nomination: Best Documentary Short Film
Links:
Pictures taken at the prison of Tuol Sleng, with photos by Nhem En
Defiance
(USA)
This war movie by Edward Zwick is playing in Eastern Poland (today's Belarus) during the German occupation in the Second World War and is about four Jewish brothers who fight as partisans. But not only their fight will be subject of this movie, but also Sowiet Anti-Semitism.
Oscar nomination: Best Score (James Newton Howard)
Frost/Nixon
(USA/UK/Frankreich)
The policital drama about the legendary interview of the former US president Richard Nixon by the talkshow host David Frost. Nixon had withdrawn from office due to the Watergate Affair, but had not given a statement so far. (The Vietnam-)War has only an indirect role, but this approach to power, its misuse and the then crisis of confidence is highly interesting, especialy as the latter is still radiating today. Forst/Nixon could not win an Oscar, similar to the recent BAFTA Awards (6 nominations) and the Golden Globes (5 nominations).
Oscar nominations (5):  Best Motion Picture, Best Directing, Best Editing, Best Adapted Screenplay, Best Leading Actor
Iron Man
(USA)
An entertaining and action-packed comic strip adaption in which a weapons producer discovers his conscience to fight against evil as flying super-hero – which sounds fat more silly as it actually is.
Oscar nominations (2): Best Visual Effects: Best Sound Editing 
Tropic Thunder
(USA)
A wonderful satire about Hollywood, film making and not the least war movies by and with Ben Stiller about a film crew shooting a Vietnam movie getting into real combat actions.
Oscar nomination: Best Supporting Actor: Robert Downey Jr.
Waltz with Bashir
(Israel, France, Germany)
A fascinating animed documentary about the trauma of an Israeli soldier that took part in the Libanon War with a phenomenal visual and sound aesthetics, not the least in the nightmare sequences.
Oscar nomination: Best Foreign-Language Film
Weitere Links: