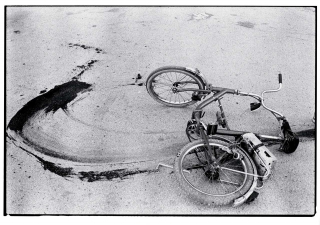 As already announced, on 20 February 2009, Annie Leibovitz has opened her exhibition "A Photograper's Life . 1990-2005" in the gallery C/O Berlin. In addition to many celebrety portraits, private pictures and some landscapes, there is also a small, but fine selection of her photos from Sarajevo and Rwanda.
More than 300 journalists had registered for the press conference, some 180 of them have been accepted, according to Mirko Nowak, PR Coordinator of the gallery C/O Berlin. Therefore, there was "quite a big fuss", as a photographer told me. A gentleman from one of the German public broadcasting services was desperately looking for a photographer who would be willing to comment the exhibited pictures with his "expert opinion" –  but either one is being touched by an image or not. How important is the aperture used, the lens selected or any other technical detail? The addressed photographer argued in the same way. During the Q&A session, not just one somewhat dumb question was asked, but Ms Leibovitz was so kind to comment it directly ("Now that's a silly question.").
The exhibition is at least worth a visit. As usual, I am confining myself to the content relevant to this blog and therefore refrain to comment on the interesting celebrity portraits as well as the various private pictures, such as beach life with the family or sitting at the bedside of her partner Susan Sontag who died in 2004.
Some of the portraits touch this blog's subject, although most of them are done in a classic and official manner, e.g. General Norman Schwarzkopf, mainly known as commanding officer during the 1990/1 Gulf War, pictured in 1991 as Commander-in-Chief CENTCOM. The same applies to General Colin Powell, who was still Chairman of the Joint Chiefs of Staff in 1991. Both photographs face each other in the gallery – and between them one can see a F-117A stealth fighter, not the least famous for its missions during the Gulf War: the cropped, distinctive silhouette during flyover, the plane being reduced to a collection of geometrical elements, plain black on the grey sky.
She took a photo of then US President Bill Clinton in 2000, and 2001 of his successor George W. Bush with the closest members of his cabinet. This latter photo is shown in a row with the then US Attorney General John Ashcroft and – the guerrilla documentary filmmaker Michael Moore.
Amongst others, Annie Leibovitz took also pictures after the 1994 Genocide in Rwanda. From this series, unfortunately only the powerful picture "Traces of the massacres of Tutsi schoolchildren and villagers on a bathroom wall, Shangi Mission School, Rwanda, 1994" can be seen: nothing but many trails of blood on a yellowish wall, mainly smeared – but this way, the massive terror is being visualised without the need to show corpses.
Another travel led her to the sieged Sarajevo to her partner Susan Sontag. 11 pictures from this series are exhibited in total, mostly showing Sontag, e.g. in the underground rooms of the newspaper Oslobođenje that was being published daily during the siege. Another picture shows Sontag in the National Library – not an unusual location for an author per se, but this library had been completely destroyed. The destruction of cultural goods to annihilate national identity is very common in wars.
The harrowing image of a bicycle on the ground shown in this article works similiarly to the one from Rwanda: the misdeed is already (most recent) past, but the sorrow and terror replay in the eye of the beholder. Annie Leibovitz wrote: "The picture of the bicycle and the smeared blood was taken just after the boy on the bike had been hit by mortar that came down in front of our car. I was on my way to a housing project to photograph Miss Sarajevo. We put him in the car and sent him to the hospital, but he died on the way."1
Now, the scholar of war has something to nag: why has then the picture being named "Fallen bicycle of teenage boy just killed by a sniper, 1994″? A sniper has not much to do with a mortar. A mortar shell kills and wounds – especially fired on a street with moving civilians – undirectedly all those who are in the radius of its impact. Was it intended to give the impression that the boy had been targetedly killed? That would be a pity, as it were highly unnecessary: firing with a mortar on a street used by civilians is not less forgivable than the targetted shooting of single civilians(which was part of Sarajevo's agenda under siege). The images' quality is not being touched by this critique – but my propaganda alarm bells ring if an obviously misguiding title has been used, as one makes him- or herself unnecessarly vulnerable.
Perhaps it helps to have a look at another of Leibovitz's quotes: "I'm not a journalist. A journalist doesn't take sides, and I don't want to go through life like that. I have a more powerful voice as a photographer if I express a point of view. (…) There was great photography coming out of Sarajevo [during the siege in 1993]. And great journalism. But no one seemed to care. I thought that, at the very least, I could help keep the story alive."2
Phew, these are some mighty words – was there really not a single person that actually cared about the story, just Annie Leibovitz? Equally amazes the statement that journalists were impartial. Absolute objektiveness is a purely theoretical construct, even if impartiality is of course desired when it comes to journalism and the subjectiveness of all reporting works ranges from balancing different aspects to pure propaganda.
Speaking of nagging: Apart from the aforementioned photo pictured above, only two further exhibited images out from a selection of 17 pictures may be shown. As no other of them bears reference to this blog, I will keep it to that and some snaps from the press conference. Furthermore, the proportion of the published images by the press with regards to content is has been determined, as well as the images' captions (of course) and further details. If I am to write about an exhibition, it is a matter of course to state the names of the artist, the exhibiton and the gallery – but if one is dictating this to me, I react a little bit liverish.
Therefore, have a good time at Annie Leibovitz's exhibition "A Photographer's Life . 1990-2005" at the gallery C/O Berlin!
C/O Berlin, Postfuhramt, Oranienburger Str./Tucholskystr., 10117 Berlin
Exhibition: 21 February – 24 May 2009
Opening: 20 February 2009, 1900h
Special opening hours on 15/16/22/23 May until 2400h
Opening hours: daily 1100-2000h
Entrance fee: 10 € (reduced 5 €)
Random House has published a book accompanying the exhibition (472 pages, 35,1 x 26,7 cm, original price US$ 100,-):
Annie Leibovitz, A Photographer's Life: 1990-2005 (Amazon)