1989 – Global Histories (House of World Cultures, Berlin)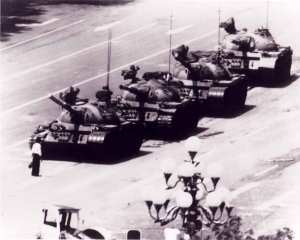 The Haus der Kulturen der Welt (House of World Cultures) in Berlin has been founded 20 years ago. This jubilee will be accompanied by various events, starting with the theme daya "1989 – Global Histories" from February 19th to 22nd 2009. 
20 years ago, not only the House of World Cultures had been founded; but it was an exceptional year not only for the history of Germany, as the interesting programme of the theme days "1989 – Global Histories" will demonstrate:
The Romanian Revolution, the Tianan'men Square Massacre in Beijing,  Khomeini's death in Iran, the Sowiet troops' withdrawal from Afghanistan, the end of dictatorships and the implementation of neoliberalism in Latin America, the withdrawal of Cuban troops from Angola, the independence of Namibia and the end of Apartheid in South Africa, and non the least the fall of the Berlin Wall and therefore the beginning of the end of the Cold War. The end of the Berlin Wall Mauerfall will be shown from the perspective of immigrants in East and West Germany, a view that has been highly underrepresented in both common perception and historiography.
The theme days' programme consists of readings, talks, various movies, installations and further events, e.g.:
19-22 Feb daily from 1200h: "1989 in Pictures", photo exhibition
19 Feb 2000h: talk between the Nigerian winner of the Nobel Prize for Literature Wole Soyinka and the British historian Timothy Garton Ash
19 Feb 2200h: "Videogramme of a Revolution", documentary by Harun Farocki und Andrei Ujica (Germany 1991, 107 min) as a chronology of the Romanian Revolution
20 Feb 1700h: "The End of the War, the Fatwa, and the Death of a Leader", reading and talk on Iran with writers Shahrnush Parsipur (Richmond/USA), Natasha Amiri (Tehran), and Islamic scholar Navid Kermani (Cologne)
20 Feb 1830h: "Bashu, the Little Stranger", film by Bahram Beizai (Iran 1986/89, 120 min) about a boy who had become orphan during the Iran-Iraq war
20 Feb 2030h/25 Feb 2000h: "Homework" (Maschgh e schab), film by Abbas Kiarostami (Iran 1989, 86 min) about a day at school in Iran during the Iran-Iraq war
20 Feb 1900h: "The Unfinished Jorney – From Tianan'men Squre to Exile", readings and talk with Wang Dan (student leader in 1989 and poet, London), documentary film maker Ai Xiaoming (Guangdong/China), poet Yang Lian (London) and sinologist and writer Tilman Spengler
20 Feb 2200h/28 Feb 2200h: "The Gate of Heavenly Peace", documentary by Richard Gordon and Carma Hinton (USA 1995, 190 min) about the protests at Tienan'men Square and the subsequent massacre
21 Feb 1430h/28 Feb 1800h: "Osama", film by Siddiq Barmak (Afghanistan/Ireland/Japan 2003, 83 min) about a 12-year-old girl in Afghanistan, that dresses up as a boy to support her family
21 Feb 1800h: "The Dawning of Independence and Democracy", talk with Andreas Eckert (African History, Humboldt University Berlin), Mueni Wa Muiu (Winston Salem State University, USA), documentary film maker Jihan El-Tahri (Egypt/France) and Manthia Diawara (African Studies, New York, USA)
21 Feb 2000h: "A Season Outside", film by Amar Kanwar (India 1998, 30 min) about a checkpoint at the Indo-Pakistani border
21 Feb 2030h: "Murderous Outbreaks, Forgotten Wars", talk about the year of 1989 in Central Asia with the journalists Faheem Dashty (Editor-in-chief, Kabul Weekly), Ejaz Haider (Friday Times, Pakistan), Iranian Prof. Bert Fragner (Academy of Sciences, Vienna) and Islamic scholar Navid Kermani (Cologne)
21 Feb 2100h/27 Feb 2000h: "Cuba – An African Odyssey", documentary by Jihan El-Tahri (Egypt 2007, 180 min) about Cuba's interventions in Africa
Please note that parts of the programme are in parallel. Some of the movies will be shown again in the following week.
Free entrance to all the events!
Haus der Kulturen der Welt (House of World Cultures)
John-Foster-Dulles-Allee 10
10557 Berlin
Share on Facebook
Categories:
Termine
Afghanistan, Afrika, China, Deutschland, Fotografie, Indien, Installation, Kalter Krieg, Lateinamerika, Literatur, Pakistan