Studying in Wartime (Photo Exhibition in Berlin)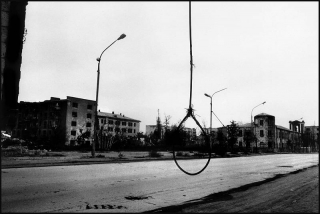 The association Studieren ohne Grenzen e.V. / Etudes sans Frontières (Studying without Borders) presents its initiative Studieren im Krieg (Studying in wartime) on 28 February with a photo exhibition in Berlin. Some 40 war photos can be seen, made during and after the wars in Chechnya by Stanley Greene, Musa Sadulaev and Rumisa T.
The exhibition and homonymous series of lectures "Studieren im Krieg. Wenn Zukunft warten muss." (Studying in Wartime – When Future has to wait.) wants to call attention to the situation of higher education in times of war and crisis. It poses questions: What happens with higher education in regions affected by crises and war? Is studying still possible in such times? If not, what does it mean for a country if a whole generation is refused the access to higher education? Waht is the prospect to the future? What does then mean to actively shape one's future? Which knowledge after a war makes what kind of shaping of the future possible? Who are these shapers in the post-war periods?1
The exhibition of war photos serves as first impulse to the question what studying in wartime may mean. The wars in Chechnya serves as one example of many.
The pavillon of the association Berliner Unterwelten e.V. could be won as venue, where one can visit, too, the interesting exhibition ]Mythos Germania[ on the Nazi plans for a future architecture.
After beiing shown in Berlin, the exhibition will travel to further locations, of which these are already known:
Tübingen, April-May 2009
Konstanz, Rathausgalerie, 1 June – 15 July 2009
Hamburg, August-September 2009
In addition to the exhibition, a series of lectures is in planning. The exhibition will be expanded, e.g. with photos from other areas of conflict and video-taped interviews of contemporary witnesses whi report on their experiences on studying in wartime. Further details will be published here.
Studieren im Krieg – Wenn Zukunft warten muss.28 February – 9 April 2009
Opening: 28 February 2009, 1800h
Opening hours: daily 1100-1900h; free entrance.
Pavillon of Berliner Unterwelten e.V.
Gertrud-Kolmar-Straße 14
10117 Berlin
Next to the Holocaust Memorial
Share on Facebook