Nuit de Chien / This Night (Volksbühne Berlin)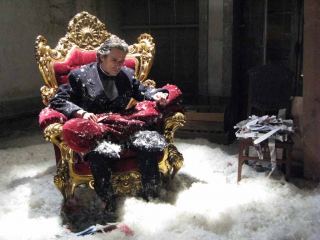 On 5 March 2009 at 2000h, the Berlin theatre Volksbühne will show the movie Nuit de Chien (This Night). Its director Werner Schroeter will be present. the theatrical and opulent film is about Ossorio, the hero of a failed resistance movement who is looking in a ficticious South-American city for his past love Clara to flee with her, while the city is increasingly descending into chaos and the secret police and brutal militia are struggling for power.
The film is based on the novel  Para esta noche by Juan Carlos Onetti and premiered in 2008 during the 65th Venice Film Festival, where the director received the Special Lion for his lifework.
Looking at the Schroeter's previous works and the divided reviews, one can surely not expect a simple, accessible movie, but abundant images and theatrical-stylised scenes in this two-hour movie.
Volksbühne Berlin
Linienstraße 227
10178 Berlin
Th  5 March 2009 2000h
Entrance fee 10€
Further links:
Nuit de Chien (IMDB)
Nuit de Chien (Filmgalerie 451)
Werner Schroeter (Wikipedia)
Share on Facebook