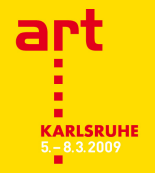 This year's art Karlsruhe will take place between 5 and 8 March. The quite young "international art fair for classical modern and contemporary art" is already well-established on the market.  Besides the many presentations of galleries and artists, it is not the least worth mentioning that with "Leipziger Strasse, 1952" one of the panoramic images by Fritz Tiedemann can be seen, shown at the exhibition "As Far as No Eye Can See" that had been already mentioned here.
In cooperation with Berlinische Galerie, the original "Leiziger Straße, 1952" and 3 further prints from the impressive exhibition "As Far as No Eye Can See" will be presented. These large-format panoramic images made in post-war Berlin attracted more than 50,000 visitors – thus making it the most successful exhibition for the gallery at its new venue. The photos by Fritz Tiedemann had been reconstructed and interpreted by Arwed Messmer. The pictures can bee seen at the "Berlin Lounge" in hall #4.
This year's art Karlsruhe presents an exhibition space of more than 35,000 m². 212 exhibitors from 12 countries have enrolled, with 300 one-artist-shows. 19 places for sculptures had been reserved, and the regional museums such as the renowned Zentrum für Kunst und Medientechnologie (ZKM, centre for art and media technology) and the Badische Landesmuseum present special exhibitions.
On 5 March at 1700h, the Zweite Hans-Platschek-Preis für Kunst und Schrift (Second Hans-Platschek-Award for Art and Writing) will be awarded, followed on 6 March equally at 1700h by the ceremony of the Zweiter art-KARLSRUHE-Preis des Landes Baden Württemberg und der Stadt Karlsruhe für die beste One-Artist-Show (Second art-KARLSRUHE-Award of the State of Baden-Wurttemberg and the City of Karlsruhe for the best One-Artist-Show).
Art Karlsruhe
Messe Karlsruhe
Messedamm 1
76287 Rheinstetten
Opening hours: 5-7 March: 1200-2000h; 8 March: 1100-1900h
Entrance fees: daily ticket 14€ (reduced 10€) with further options
Further links:
Karlsruhe: Stadt & Tourismus (German only)