Remembering Soldiers in Germany (Berlin)
On 29 April 2009 from 1830h, a panel discussion on the topic of "Remembering Soldiers in the Federal Republic of Germany" will be held at the Landesvertretung Sachsen-Anhalt in Berlin. The event will be organised by four associations and will include two scholars and journalists each. It will tackle both historical and contemporary aspects of remembering soldiers in a democratic society and should be worth a visit.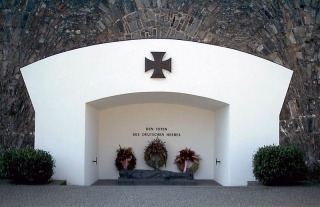 This interesting event is being organised in cooperation between the Gesellschaft für Wehr- und Sicherheitspolitik (GfW), the Verband der Reservisten der Bundeswehr (VdRBw)1, the Deutsche Bundeswehrverband (DBwV)2 and the Preussische Gesellschaft Berlin-Brandenburg. Both the presentations and the Q&A will be held in German.
Please send an email to attend until 22 April 2009: info@gfw-sektion-berlin.de
Venue
Landesvertretung Sachsen-Anhalt
Luisenstr. 18
10117 Berlin-Mitte
Programme
From 1800h Entrance opens
1830h Welcoming address
1840h Statements
Prof. Dr. Manfred Hettling
Martin Luther University Halle-Wittenberg, Historical Institute
»Militärisches Totengedenken in der Berliner Republik«
(Military Remembrance in the Berlin Republic)
Dr. Jörg Echternkamp
Historian, Project Lead at the Militärgeschichtliches Forschungsamt der Bundeswehr (MGFA, Institute for Military History of the Bundeswehr), Potsdam
»Erinnerungskonflikte: Totengedenken in der "alten" Bundesrepublik«
(Conflicts of Commemoration: Remembrance in the "old" Federal Republic of Germany)
Andreas Kilb
Feuilleton Correspondent, Frankfurter Allgemeine Zeitung (FAZ)
»Ein Denkmal im Hinterhof«
("A Memorial for the Backyard")
Mathis Feldhoff
Correspondent, ZDF Capital Studio, Berlin
»Ehrenmal und Tod im Einsatz«
("Cenotaph and KIA")
1915h Panel Discussion
2000h Q & A
2045h-2145h Individual talks during drinks reception
The VdRBw is an association mainly for German reserve soldiers with some 126,000 members. ↩
The DBwV is an association for serving and former military personnel with some 200,000 members. ↩
Share on Facebook