Christo wraps AA tower (on an Austrian stamp)
Christo wrapped one of the massive World-War-II AA towers in the Austrian capital – at least on a stamp that had been issued on 15 April 2009 with a nominal value of 0,55€ with an edition of 300,000 prints.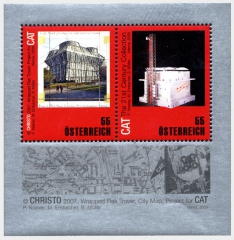 Christo and Jeanne-Claude presented their drawing of the wrapped bunker during a press conference that they produced free of charge. The artists want to support the project "Contemporary Art Tower" (CAT) of the "Österreichisches Museum für angewandte Kunst" (Austrian Museum for Applied Art, MAK): the massive tower in Arenbergpark is widely disused, but its huge space is planned to be converted into a museum of contemporary art.
Christo stated that he had already planned to wrap one of the six remaining AA towers of Vienna in the 1970s, but did not get an authorisation. An actual wrapping is not longer intended, howerver. Peter Noever, director of MAK, said that "a place of war should become a place of art".1 
The bloc of two stamps of 0,55€ each consists of Christo's drawing and the draft of the converted CAT including its almost frail "media and supply tower"; on its top, the US concept artist Jenny Holzer wants to install a "search light": with a laser projection, the publich should be informed about events in the museum. The Land Art aritst James Turrell want s to build a "Skyspace" on one of the four platforms, "in which the visitors perceive the space between heaven and earth as a materialised colour  patch, being able to feel the otherwise incomprehensible distance as transcended".2. Further installations are planned.
Even from abroad, the bloc can be ordered online for 1.10€ (plus P&P) at the Austrian Mail.3
Share on Facebook