Moeller Fine Art shows in its Berlin gallery the multifaceted group exhibition "Manifest Destiny" with photographs, installations, sculptures, collages and drawings by Mildred Howard (USA), Tom Molloy (Ireland) and Simon Norfolk (Nigeria/UK). The title refers to the homonymous 19th-century-doctrine that was also used to legitimate the territorial expansion of the USA as God's will.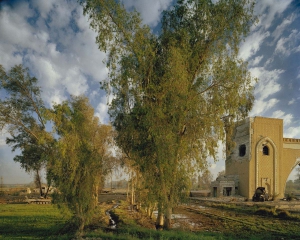 Not the least, the photographs of Simon Norfolk look very promising: at first glance, his work "The North Gate of Baghdad, the scene of fierce fighting, 19-27 April 2003" from the series "Scenes from a Liberated Baghdad" rather appears to be a 19th-century landscape painting, including nice ruins that then had rather be mandatory. A closer look reveals an abandoned BMP-1 infantry fighting vehicle and a destroyed pick-up truck with mounted artillery rocket launcher. Even the luscious vegetation adds to the familiar, but nevertheless wrong impression, as pictures from the Middle East are expected to be solely dusty and gritty.
All three artists will be present for the opening on 18 September.
Manifest Destiny
19 September – 7 November 2009, Tu-Sa 1100-1900h
Opening: 18 September 2009, 1900-2100h
Moeller Fine Art
Tempelhofer Ufer 11
10963 Berlin
Germany