Martin Roemers: "Relics of the Cold War" (Berlin)
The exhibit "Relics of the Cold War" of works by the Dutch documentary photographer Martin Roemers will be presented in the Willy-Brandt-Haus in Berlin from 10 November 2009 onwards.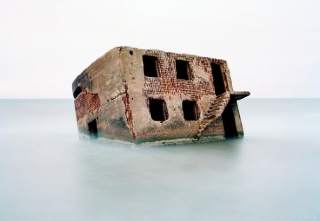 For more than ten years, Martin Roemers, born in 1962, searched for traces of the Cold War by travelling through the former enemy countries, from Germany, Great Britain and  Belgium to the countries of the former Eastern Bloc such as Poland, the Ukraine and Latvia. He took photos of abandoned C2 centres, derelict barracks, salvaged tanks, destroyed statues and bunkers. In his pictures, the era of hostility, policy of deterrence and arms race becomes vivid – as a warning to our future, too.
In 2006, the freelance photographer Roemers received the 2. Prize of the renowned  World Press Photo Award for his touching portrait series "World War II Veterans".
His book Relics of the Cold War
(144 pages) with essays by H.J.A. Hofland and Nadine Barth has been published at Hatje Cantz for 35,- €. Further images can be found on Roemer's website.
On the occasion of the opening on 10 November 2009, the experienced curator Gisela Kayser will give an introduction, followed by speeches of the art historian Matthias Flügge and the "father of the Ostpolitik (Eastern Policy)" Egon Bahr, Federal Minister for Special Affairs of Germany in 1972-74.
Exhibition "Relics of the Cold War"
The exhibition will be opened between 11 November 2009 and 15 January 2010 from Tuesday to Sunday 1200-1800h geöffnet (closed on 24, 25 and 31 December 2009).
Opening: Tuesday 10 November 2009 at 1930h
Entrance is free of charge, but a personal ID card is needed.
Address:
Willy-Brandt-Haus
Wilhelmstraße 140 / Stresemannstraße 28
10963 Berlin-Kreuzberg
Germany
Share on Facebook