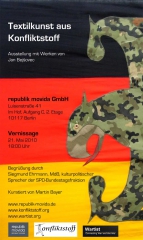 From 21 May 2010, textile artist
Jan Bejšovec
will show a selection of his unusual works in the premises of the Berlin-based political consultancy
republik movida GmbH
. The exhibition
Textilkunst aus Konfliktstoff (
"Textile Art – Matter of Conflict") is curated by Martin Bayer (Wartist.org), with a welcome address by
Siegmund Ehrmann, MP
and cultural political spokesperson of the SPD's parliamentary group.
The artist, born in 1975 close to Karl-Marx-Stadt (today's Chemnitz), caught our eye more than one year ago with his fascinating installation Friedenssäule (Peace Column) at Berlin's Mehringplatz: with his artistic intervention into the public space, he addressed the manifold – and especially military – aspects of the location's immediate vicinity. His new exhibition will include some recent works.
In his works, Jan Bejšovec consistently addresses history (not the least of the two Germanies), as well as tradition and self-conception. For this, he is making use of fabrics with camouflage patterns, but also other parts of uniforms.
According to the artist: "The fabric on which this art is based on is not intended to embellish, nor should it feel soft like velvet. It originates from production owned by the people, from army depots or from second-hand dealers. It rested for years in attics, was pressed into duffel bags or was left on coat hangers. However, these fabrics may represent history and tell stories; it has made experiences and collected views. Joined bit by bit, embroidered, padded or fixed on a frame, it begins to talk: it reports on conflicts, disappointments, world views, fascination, fun, irony – and thus it is textile art by matter(s) of conflict"1
Furthermore, this exhibition is the first cooperation between republik movida GmbH and Wartist. The political consultancy, closely located to the German Houses of Parliament and the Federal Chancellery and managed by Lars Rohwer and Jan Strecker, is thus playing its part in the close connection between politics, media, economy and culture.
Siegmund Ehrmann, MP, deputy chairman of the cultural and media committee, and cultural political spokesperson of the SPD's parliamentary group, will deliver a welcoming adress. The artist will be present. Informations on the invitation and visiting the exhibition can be received via email.
Jan Bejšovec: Textilkunst aus Konfliktstoff
republik movida GmbH
Vernissage:
21 May 2010, 1800h
We kindly ask for the visitors' registration, as attendance is limited!
Luisenstr. 41
10117 Berlin
Germany
Tel. +49-(0)30 / 526 825 410
German Konfliktstoff means "causes of conflict", set together by Konflikt and Stoff, literally meaning fabric. ↩