Bice Curiger will curate the 54th International Art Exhibition in Venice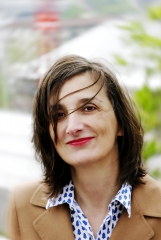 The Board of the
Biennale di Venezia
, chaired by Paolo Baratta, has met today and appointed
Bice Curiger
as
Director of the Visual Arts Sector
, with specific responsibility for curating the 54th International Art Exhibition to be held in 2011. Congratulations!
Bice (actually Beatrice) Curiger is an art historian, critic and curator of international exhibitions. Born in 1948, she had studied History of Art, Ethnology and Literary Criticism at the University of Zurich. Since 1993, she is adjunct curator at the Kunsthaus Zürich, one of the world's most important museums for modern and contemporary art. She is co-founder and editor-in-chief of "Parkett",1 one of the most authoritative and innovative contemporary art magazines in the world, published in Zurich and New York since 1984. Since 2004, she is publishing director of "Tate etc", "Europe's largest art magazine", produced by London's Tate Gallery. She is also the author of various publications and catalogues of contemporary art, e.g. her monograph about surreal artist Meret Oppenheim, "Defiance in the Face of Freedom" (ABC Verlag, Zurich, 1982; English translation 1990, MIT Press, Boston) . Between 1984 and 1994, she was member of the Swiss National Council for the Arts. In 1996, she was member of the jury for the Turner Prize.
On the occasion of her nomination, Bice Curiger declared: "It is a great honour and a privilege to be asked to be the director of the Venice Biennale, one of the world's most important and exceptional overviews on contemporary art. I am very much looking forward to the great challenge. La Biennale is an exhibition, which is traditionally attracting a wide-ranging public, from professionals to so-called 'amateurs' and art lovers. This offers the opportunity to reflect on the highly communicative aspect of today's art, which strongly engages and commits viewers – draughting a contemporary image of the individual in the broad collective and social context".
We wish the new curator all the best for her task!
Together with Walter Keller, Jacqueline Burckhardt, Dieter von Graffenried and Peter Blum ↩
Share on Facebook