The Erich Maria Remarque Friedenszentrum (Erich Maria Remarque Peace Centre) in Osnabrück shows from 20 August 2010 onwards the travelling exhibition "Endzeit Europa" (End Time Europe – A Collective Diary of French and German Authors 1914-1918) by the Brandenburgisches Literaturbüro in Potsdam. Private texts by French and German authors will be shown, together with impressive colour photos by the photographers Jules Gervais-Courtellemont and Hans Hildenbrand.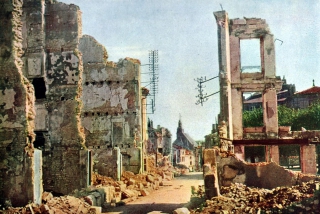 According to the invitation of the Erich Maria Remarque-Friedenszentrum:
When World War I broke out in summer 1914, artists and intellectuals in France and Germany are not only victims of the zeitgeist, but also opinion leaders in the propaganda war. "In today's wars that carry away whole peoples, even the thought has become part of duty", Romain Rolland wrote.
It is well-documented how intellectuals and artist have acted publicly on the war. But how did they privately experience and reflect the time? The collective diary of French and German authors during the time of World War I is formed by a collage of private texts.
The texts will be continuously illustrated by authentic colour photos, made by the French Jules Gervais-Courtellemont and the German Hans Hildenbrand. Words and images result in a chronicle of those times of change, marking the end of old Europe and seen today as the actual turn of the area in the 20th century.1
On the occasion of the opening, Osnabrück's mayor Karin Jabs-Kiesler presents the welcoming address. Curator Dr Peter Walther from the Brandenburgisches Literaturbüro gives an introductory presentation.
In 2008, a comprehensive catalogue has been published at Wallstein-Verlag, Göttingen (432 pages , 54 colour images; 29,90€, ISBN 978-3835303478).
"Endzeit Europa" has been shown in 2009 at the Haus der Brandenburgisch-Preussischen Geschichte in Potsdam, and in further locations in Germany and France. The flyer (PDF, 800 kB) shows more pictures of the exhibition. On 11 November 2008, the German news magazine SPIEGEL published an article by Dr Peter Walther on the colour photos: "Die Farbe des Krieges" (The Colour of War; article in German; English captions available).
Endzeit Europa
20 August – 14 November 2010
Tu-Fr 1000-1300, 1500-1700, Sa/Su 1100-1700h
Erich Maria Remarque-Friedenszentrum
Markt 6
49074 Osnabrück
Germany
Opening: Th 19 August 2010, 1930h