Thomas Wigold is one of the few versed German journalists who are specialised on defence matters. His blog Augen geradeaus! (Eyes front!)1was always a pleasure to read. Unfortunately, it was disused for a few months; from today, the blog is back alive and can be reached under a new address.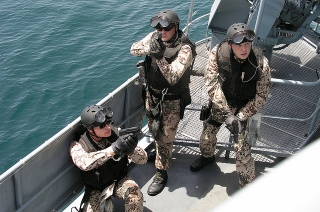 Augen geradeaus! is a blog worth reading about the Bundeswehr, the military, and defence and security policy. While the blog is primarily in German, Wigold states that he is going to publish in English all those articles that are interesting for an international audience.
Berlin-based Thomas Wigold is not any longer with the German news magazine Focus, but working as a freelance journalist. For getting quick information, subscribing to his Twitter account is advisable. The previous issues of Augen geradeaus! at Focus are going to stay online as an archive.
Thus, we can only wish Thomas Wigold the best of success and luck with the continuation of his work!
Augen geradeaus! in German does not only mean the military command "Eyes front!", but also the advice to look ahead. ↩