Radio Talk: The Bundeswehr's Culture of Remembrance
On 13 August 2010 at 1915h, German radio station Deutschlandradio broadcasted a 45 minutes discussion of its programme Kulturgespräch called "Freundliches Desinteresse" (amiable lack of interest, a quote by former Federal President Horst Köhler on the German people's attitude towards the Bundeswehr) about "The Bundeswehr's Culture of Remembrance".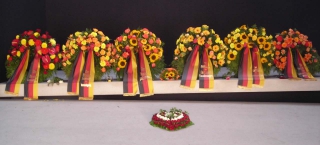 Let us quote the introduction on the website:
"Military commemoration of heros and a sacrificial cult are mostly remote to our civil society. That is why new memorials and public mourning ceremonies for soldiers who died in the Afghanistan mission are met by reluctance and indifference by the public."1
It is highly interesting, that the reason has already been delivered. If one would be mean, one could say that the discussion has already become needless before it even started. Having said that, the differentiated panel is quite worth listening to as either MP3 or Flash (German only).
The discussion was moderated by Jochen Rack; panel members had been:
Detelf Bald, Munich-based freelance historian and publicist Historiker, in addition associate to the Instituts für Friedensforschung und Sicherheitspolitik an der Universität Hamburg (IFSH, Institute for Pease Research and Security Policy, University of Hamburg). Bald wrote e.g. the books "Die Bundeswehr: Eine kritische Geschichte 1955-2005" (2005) and "Die Weiße Rose – Von der Front in den Widerstand" (2004).
Herfried Münkler, Professor of Politology at Humboldt University Berlin and author of many military-historian and military-theoretical works such as "Die neuen Kriege" (2002) or "Der Wandel des Krieges: Von der Symmetrie zur Asymmetrie" (2006).
Hellmut Königshaus, since 2010 Wehrbeauftragte des Deutschen Bundestags. He also talked about the Canadian War Museum in Ottawa; in its section about contemporary warfare, pictures of fallen Canadian soldiers and their bereaved are shown, thus transforming sheer casualty figures into comprehensible stories of lives.
Share on Facebook