As already announced here, on 29 October 2010, the exhibition "Erinnerungen" (memories) with photographs of Jürgen Graetz was successfully opened in the premises of the Berlin-based political consultancy republik movida GmbH. The welcome address was given by Lars Lindemann MdB (FDP) in the presence of the artist.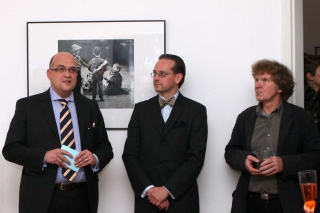 The Member of Parliament did not only feel remembered to his own childhood in Brandenburg (which then was located in East Germany), to the flag ceremonies and paramilitary deployments in Berlin, but also to his own departure from Germany (East) to Germany (West).
This absurd reality is now history since a bit more than 20 years: a whole generation has now grown without inner-German division. Thus even more so it makes sense to remember; especially so as children and the youth are hardly taught anything about it at school.
Lindemann continued: "Many pictures are being received differently than at the time they had been made. Today, everybody has one's own thoughts and memories; depending on our own experiences; and depending on having experienced the originals. The view of Jürgen Graetz does always pay attention to detail, but it never trying to poke fun."
Curator Martin Bayer referred to the pictures' complexity: "You look at the photograph with the laughing, happy punks and you only feel the relaxed atmosphere. But the picture was made in Treptow in 1983, and punks and other people following alternative lifestyles were discriminated against in the GDR and underwent various reprisals."
He is not the least taken with Graetz's photographs of the Soviet War Memorial in Berlin of which 15 can be seen in the exhibition: "A Soviet soldier of the West Group of Forces is sweeping snow from a memorial stone in February 1993 : 'The Motherland will never forget her heroes' is written on the plaque. How much of it is wishfull thinking, how much ironically twisted reality? On the next picture, a tautly marching squad in goose step – coming from the mist, going into the mist. There is also a family of four, holding hands while walking; it is making a bond of loneliness and melancholy with the Red Army soldier of the next picture. Stoically and quite like a statue, another soldier is guarding the memorial that is blurred by the mist. He is being faced by a mourning mother in another photograph. Here, the memorial is retrieving its intrinsic role: from an official 'drop zone for wreaths' to a personal and even intimate place of remembrance. Graetz is able to make these moments visible and to deeply move us with his pictures."
Jürgen Graetz's photographies stand out due to his captivating visual approach: he is observing the people in their situation. In any case, he is doing without any striking effects, superficial stylisation or insipid nostalgia.
"It is often the reputedly disadvantaged and outsiders of society whom he is giving faces: children and the aged, the lonely, or those who have long odds in society: tradesmen, factory workers, working women, Red Army soldiers. Graetz favours a  cautious approach, never one that is pointing a finger, and especially not a denunciatory one. The ones pictured always remain their dignity. It is the affectionate subjectivity of the photographer with his subtle humour and irony, feeling his way with sensitivity, that touches the viewer", wrote Dr Peter Böthig from Kurt Tucholsky Literaturmuseum in Rheinsberg in his foreword to the illustrated book "Jürgen Graetz – Fotografien 1958-2008" that unfortunately is out of print.1
The worthwhile exhibition with 42 photographs can be visited until late February 2011 in the premises of republik movida GmbH (prior reservation by email or phone necessary):
Wartist presents:
Erinnerungen – Fotografien von Jürgen Graetz
republik movida GmbH
Luisenstr. 41
10117 Berlin
Germany
Tel. +49-(0)30-526 825 410
Email info@republik.movida.de
Edition Stechlin, 2008; 176 pages, ISBN 978-3000252228 ↩