Kuwait Bans the Use of Digital SLR Cameras in the Public
As reported by the newspaper Kuwait Times (under reference to an edict by the three Ministries of Information, Social Affairs and Labour and Finances), the emirate of Kuwait has banned the public use of digital single-lens reflex cameras (SLR). Journalists are allegedly exempt from this ban.
One feels remembered to the art performance "Fotografieren verboten!" (No Pictures!) by the German photographer Kurt Buchwald from the years 1988 to 2004: in 1988, on the occasion of the 150th birthday of photography, he erected prohibition signs at worldwide viewpoints and places of interest to limit the inflationary taking of pictures. This picture of the Atacama desert in Chile has been made in 1995.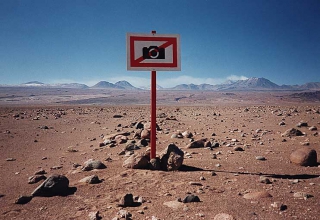 But this is not about an artistic intervention, but a governmental act of repression that is not even well reasoned on legal terms. The official position is that people would often be irritated by the "big black box" of a digital SLR camera; even more so, they would not know what will happen with the pictures taken. Hobby photographer Majed Al-Saqer stated, he would often be stopped in his car, as people obviously think he is going to kill somebody, mixing his camera with a weapon.
Especially younger Kuwaitis wonder about this ban in their homeland, not the least as digital compact cameras or mobile phones are exempt that often have similar capabilities. We would be highly interested if analogue SLR cameras are exempt from this ban or from which size onwards this ban will be enforced: are bridge cameras or bigger-sized compact cameras allowed that are hardly, if at all, smaller than SLRS, while compact digital SLRs are banned?
It will thus be interesting how the Kuwaiti people – especially on the medium and long term – will deal with this ban, and not the least with photography as such.
Correction (28 November 2010): The information from Kuwait Times this article was based upon proved to be wrong (see our article on this issue)!
Share on Facebook